H.H. Sheikh Mansoor Bin Zayed Al Nahyan
Global Arabian Flat Racing Festival
Official Website / CALENDAR 2012 / Photos by Morhaf
Abu Dhabi gears up for the HH Sheikh Fatima Bint Mubarak
Ladies World Championship final leg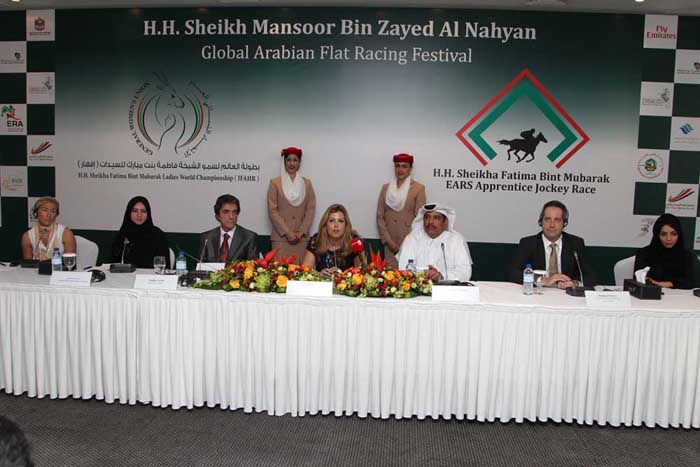 Abu Dhabi – Twelve lady riders have been declared to battle it to the wire in the final leg of the HH Sheikha Fatima bint Mubarak Ladies World Championship to be held at the Abu Dhabi Equestrian Club on November 11, 2012.
"The competition is no longer a battle for a Cup or a trophy to be presented at the end of every single race, but it's a world championship which brings together amateur lady riders from around the globe to compete in a series of ten rounds which culminates with the final leg in Abu Dhabi, where two lucky girls will drive home two brand new Mercedes Benz cars, over and above the Dh 130.000 in prize-money which would be claimed by the winning lady jockey," Lara Sawaya, director of the HH Sheikh Mansoor bin Zayed Al Nahyan Global Arabian Horse Racing Festival and Head of IFAHR ladies racing, said during a special news conference here on Saturday.
The press briefing was attended by Sami Jassim Al Boenain, chairman of IFAHR, Nadim Lahad, manager, Emirates (Abu Dhabi a nd Al Ain), Aisha Al Marzuki of General Authority for Youth and Sports and Stephen Bowey, Executive Director (Corporate Development) Invest AD, as well as Omani jockey Fatima Al Manji and Norwegian jockey Veronika Aske.
Meanwhile, the nine winners of the previous nine rounds of the competition plus UAE representative Shathra Hajjaj along with two professional jockeys American Joy Scott and Australian Michelle Payne have been chosen to join the others.
According to Sawaya, the draw ceremony will be held at the Emirates Palace in Abu Dhabi on November 8 in accordance with the established rules and regulations of the sport.
"Under the directives of HH Sheikh Mansoor bin Zayed Al Nahyan, Deputy Prime Minister and Minister of Presidential Affairs, the total prize-money has been increased from Euro50.000 to Euro62.000 and will be distributed among the winning clubs of the five top lady jockeys who have collected the highest numbers of points throughout the nine rounds. The move aims at supporting the lady riders within the said racing clubs," she clarified.
"UAE jockey Shathra Hajjaj is showing the way with 51 points , followed by the British and German riders with 50 points each as Sultanate of Oman comes fourth and France settled in the fifth place. The winning club will walk away with Euro 25.000, while the second finishers will claim Euro12.500 each, Oman will receive Euro7.000 and Euro 5.000 goes for France," she confirmed.
"Moreover, all the 108 lady jockeys who took part in the previous rounds will be invited to attend the final day, and a lucky lady will drive home a brand new Mercedes which will be drawn by the end of the big night," she confirmed.
Regarding the next year's calendar, Sawaya said two races have been added in San Francisco and Huston in USA to increase the number of the rounds from ten to 12.
"The season's campaign will kick off from Muscat in January. Furthermore, 12 riders from UAE , Oman and Qatar will be invited to take part in the inaugural edition of the HH Sheikha Fatima bint Mubarak EARS Apprentice Jockeys Race which carries a total purse of Dh60.000 and will be held concurrently with the HH Shaikha Fatima bint Mubarak EARS (European Association Racing Schools) Conference on Education and Training in Abu Dhabi as from November 2013," she said.
The HH Sheikh Mansour bin Zayed Al Nahyan Global Arabian Flat Racing Festival is organised to promote purebred Arabians in different parts of the world with the sponsors being by the Abu Dhabi Tourism and Culture Authority and co-ordinated by Abu Dhabi Sports Council in association with Emirates Racing Authority, IFAHR and Emirates Arabian Horse Society, supported by General Authority for Youth and Sports and Fegentri with Emirates airlines as theofficial carrier and sponsored by Invest AD, Al Rashid Investment, Areej Al Ameerat, Mauzan, Al Awani General Enterprises, Kabale, the UAE's General Women's Union, the Sheikha Fatima Bint Mubarak Ladies Sports Academy, Abu Dhabi International Hunting and Equestrian Exhibition 2012, Wathba Stud Farm and Abu Dhabi Equestrian Club.
The winners of the previous rounds are:
12-1-12: In Muscat, Oman: Norwegian Sijla Storen on Muhal
27-1-12: Melbourne, Australia: Nadine Gratz on Ridgecrest
3-3.12: San Houston, US: Omani: Fatima Al Manji on Sandpiper
4-5-12 Casablanca, Morocco: Nadine Gratz on Chaoui
19-5-12: Newbury, UK: Norwegian, Veroneka Aske on Muhal
10-6-12: Berlin, Germany: Emily Jones on Phraseur Kossack
10-7-12: Taby, Sweden: Delaphine Garcia-Dubois on Serouda Du Breuil
26-8-12, Warsaw, Poland: Swiss jockey Katja Mark on Celtik
1-9-12: Craon, France: Alison Mossin on Ijad

Saada Saab Antipas
Press Coordinator