H.H. Sheikh Mansoor Bin Zayed Al Nahyan
Global Arabian Flat Racing Festival
Official Website / CALENDAR 2012

Official Draw of HH Shaikha Fatima Bint Mubarak Ladies World Championship and
HH Shaikha Fatima bint Mubarak EARS Apprentice Jockey Race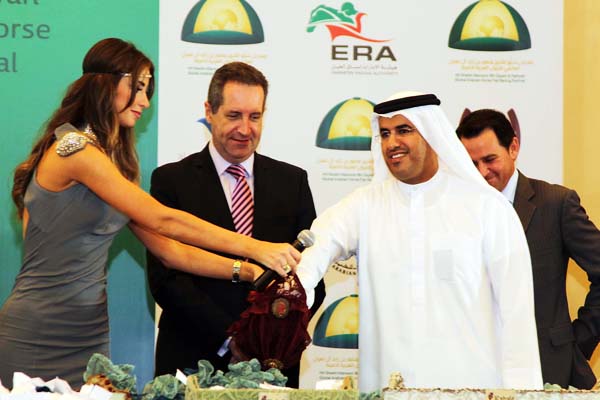 Top professional Australian lady jockey Linda Meech who comes to UAE with 1000 wins, partners A'nnabak W'Rsan as 12 lady riders from around the globe launch their claims in the final leg of the HH Shaikha Fatima bint Mubarak Ladies World Championship (IFAHR) at the Abu Dhabi Equestrian Club on Sunday evening.
Shathra Hajjaj, representing UAE, who's seeking her first win in the series starts from stall three astride Ragdan. But she looked confident to strike after nine unsuccessful attempts where her best finish was third in Germany.
"I would prefer to start from stall five or six, but gate three in Abu Dhabi racetrack is not very bad. The race has attracted the attention of all lady jockeys in the world, including those who are not taking part in the final leg, and they have showed great determination on the Facebook and Twitter to make it a very special event," she said.
But, Abu Dhabi-based French trainer Eric Lemartnel is of the opinion that AF Sanadek, ridden by Alison Massin from France, will be hard to beat in the ladies challenge.
In the meantime UAE upcoming apprentice jockey Saeed Al Mazrooei will jump on Jameel W'rsan to carry the country's hopes in the inaugural edition of the HH Shaikha Fatima bint Mubarak EARS Apprentice Jockey Race.
Al Mazrooei who scored eight wins in his two-year career said: "I expect the race to be very fast and inexperienced riders may lose ground in the early stages as the riders begin to sort themselves out. The winner will be the one who does the better work in the final furlong. I took part in a similar race in Qatar, but there's a very big difference between Arabians and Thoroughbreds as regards the structure and speed of the horses. I don't know my horse, but I trust our national trainer Bakhit Al Ketbi and hopefully I will be thereabouts," he said.
The draw ceremony was held on Tuesday at the Mangrove Hotel in Abu Dhabi on Tuesday and attended by Mubarak Al Muhairi, director general of the Abu Dhabi Tourism and Culture Authority, Lara Sawaya, director the HH Sheikh Mansour bin Zayed Al Nahyan Global Arabian Flat Racing Festival and head of IFAHR ladies racing, Dr. Nader Saab, Adnan Sultan, director general of the Abu Dhabi Equestrian Club and Stephen Bowey, Executive Director (Corporate Development) Invest AD.
The draw was conducted by Annebella Hillal, 2006 first runner up of Miss Lebanon and 7th runner up of Miss World and MBC presenter besides the Channel Four famous presenter Derek Thompson.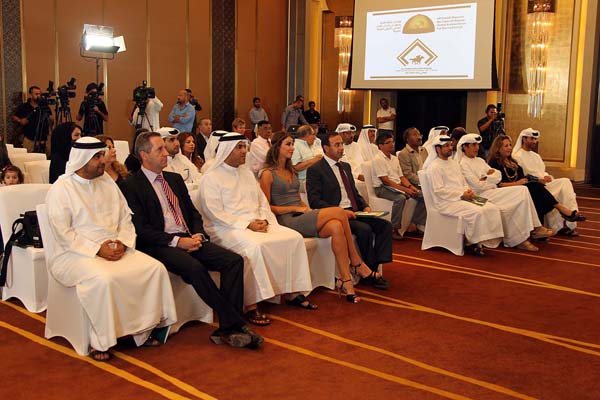 Both events, which have attracted strong fields of 12 runners each, are held under the directives of Shaikh Mansour bin Zayed Al Nahyan, UAE Deputy Prime Minister and Minister of Presidential Affairs, as part of the Shaikh Mansour bin Zayed Al Nahyan Global Arabian Flat Racing Festival which is organized by the Abu Dhabi Tourism and Culture Authority and co-ordinated by Abu Dhabi Sports Council in association with Emirates Racing Authority, IFAHR and Emirates Arabian Horse Society, supported by General Authority for Youth and Sports Welfare and Fegentri with Emirates airlines as the official carrier and sponsored by Invest AD, Al Rashid Investment, Areej Al Ameerat, Mauzan, Al Awani General Enterprises, Kabale, the UAE's General Women's Union, the HH Sheikha Fatima bint Mubarak Ladies Sports Academy, Abu Dhabi International Hunting and Equestrian Exhibition 2012, Dr. Nader Saab Switzerland, Wathba Stud Farm and Abu Dhabi Equestrian Club.
HH Shaikha Fatima Bint Mubarak Ladies World Championship:
Linda Meech (Australia) A'nnabak W'rsan, Jaqueline Davis (US) Ibn Battuta Monlau, Shatra Al Hajjaj (UAE) Ragdan, Delphine Gracia Dubois (France) AF Sanadek, Alison Massin (France) Andaleeb, Silja Storen (Norway) Wajfah W'rsan, Veronika Aske (Norway) Swyft, Katija Markwalder (Switzerland) Jazeerat Al Sadyaat, Emily Jane Jones UK) Al Mouttakel, Nadine Gratz (Germany), Meshwar, Djardai Vandenbroek, The Netherlands ( Naseem Al Reef)
HH Shaikha Fatima bint Mubarak EARS Apprentice Jockey Race
Saeed Al Mazrooei (UAE) Jameel W'rsan, Munis Al Siyabi (Oman) Richly Blessed, Yousuf Al Hajri (Qatar) AF Maya Hab, Dimitri Ibouth (France) Simbaz Du Loup, Noel Garbutt (UK) Waasel), George Chaloner (UK) Harras, Martin Seidl (Germany) Bader , David Kenny (Ireland) Qabas , Antonio Fresu (Kalahari Desert (Italy) , Max W Friberg (Sweden) Ma'eror W'rsan), Andrew Wolfsont (US) Harb, Keagan de Melo (South Africa) AF Qamoos.
Saada Saab Antipas
Press Coordinator