H.H. Sheikh Mansoor Bin Zayed Al Nahyan
Global Arabian Flat Racing Festival
Official Website / CALENDAR 2012 / Photos by Morhaf

Rabah De Carere makes winning bow
Rabah De Carere, completed a spectacular finish in the 1,900-metre Prix Tidjani Group-3 at La Teste Racecourse in France on Sunday, July 22.
The three-year-old son of Mizzna, a daughter of the legendary Purebred Arabian mare Al Anudd (Unchained Melody) and Babi de Carere, was making a winning debut. He was trained by Jean Francois Bernard for the owner HH Sheikh Mansoor Bin Zayed Al Nahyan, Deputy Prime Minister and Minister of Presidential Affairs.
Rabah De Carere is the progeny of a successful embryo transfer, a real revolution in the human-directed process of selective breeding of purebred horses.
Rabah was installed as outsider but travelled well and won impressively. He was perfectly poised behind the early speed until his jockey stepped on the gas with less than two furlongs remaining.
At this stage, Rabat responded keenly to enter into the final stage of the race which he won in great style.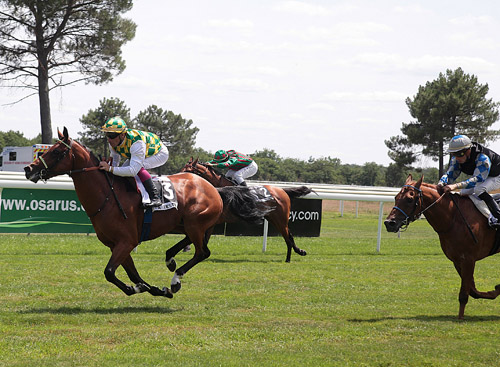 Embryo transfer: a revolution
Embryo transfer refers to a step in the process of assisted reproduction in which embryos are placed into the uterus of a female with the intent to establish a pregnancy. This technique (which is often used in connection with In Vitro Fertilization (IVF) can be used in both humans or in animals.
In the case of Mizzna, the mare was inseminated in Abu Dhabi, but other operations were performed at the Wathba Stud Farm in Normandy, France.
According to Sultan Al Marzouqi, director of Wathba Stud Farm owned by HH Sheikh Mansoor Bin Zayed Al Nahyan, the move represents a breakthrough in the field as it is the first of its kind in the region.
"The great performance of Rabah De Carere is the best evidence that the breeding process at the Wathba Stud Farm is on the right track and showing the way for other breeders who would like to enrich the Arabian races," he said.
Rabah De Carere is one of three offspring of the Purebred Arabian racing legend Mizzna, sired by Bibi de Carere at the HH Sheikh Mansoor Bin Zayed-owned Wathba Stud Farm.
The farm houses top stallions include Mahabb and his sire Tahar De Candelon, in addition to Munjiz, Sire D'Albert, Mawood, Quazar and Sarrab. All stallions have made their presence felt in the track before they were retired to stud.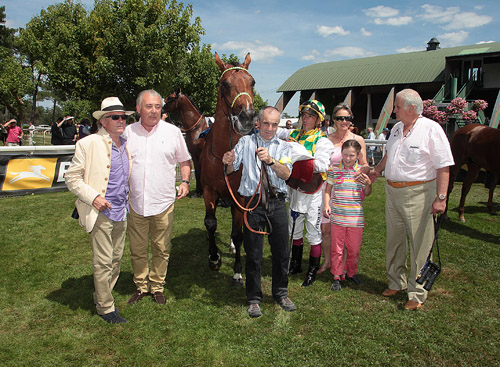 Saada Saab Antypas
press coordinator