Festival's innovative stand
Huge Attraction at ADIHEX
The 16th edition of the Abu Dhabi International Hunting and Equestrian Exhibition opened in the capital city of Abu Dhabi on Tuesday, September 25, 2018, to a glittering start.
The five-day annual event, being held at the Abu Dhabi National Exhibition Center, ADNEC, will conclude on September 30, 2018.
His Highness Sheikh Mansoor Bin Zayed Al Nahyan Global Arabian Horse Flat Racing Festival, which is celebrating its tenth year, which also coincides with Zayed's 100th year, has a sprawling presence at a whopping 3,600 square meters area, was a huge attraction with representatives and sponsors from different countries making their presence felt and showcasing their specialisations in equestrian discipline.
Earlier in the day HE Sheikh Nahyan Bin Zayed Al Nahyan, Chairman of Abu Dhabi Sports Council, one of the main sponsors of the Festival, visited the pavilion and praised its creativity and grandeur. He was given a tour of the pavilion by Ms. Lara Sawaya, Executive Director of HH Sheikh Mansoor Bin Zayed Al Nahyan Global Arabian Horse Flat Racing Festival, Chairperson of the International Federation of Horse Racing Academies (IFHRA) and Chairperson of Ladies & Apprentice Racing Committees in the International Federation of Arabian Horse Racing Authorities (IFAHR). She explained the salient features of each of the booths which are represented by several European and American equestrian-based companies, apart from huge UAE presence.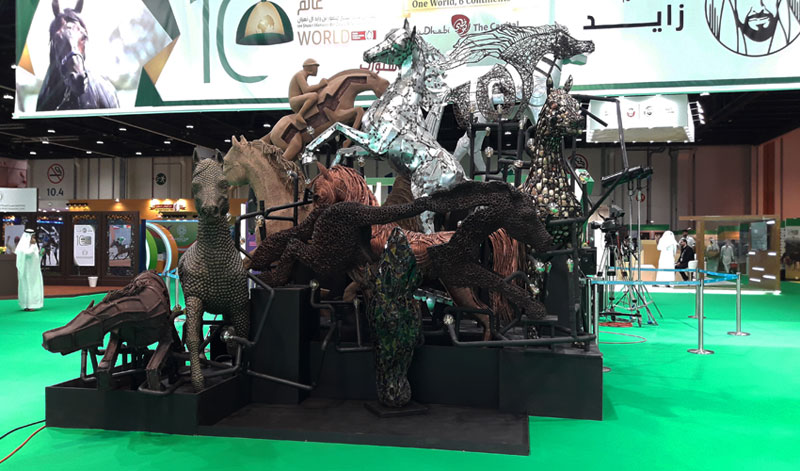 The festival's main attraction is a unique concept of ten years of the festival with ten horses representing each year. Ms Lara explained the salient features of the model to HE Sheikh Nahyan Bin Zayed who expressed his happiness over its creativity and novelty.
The presence of the Festival at the exhibition is part of the of 'One World, 6 Continents, Abu Dhabi, The Capital' annual programme with focus on Purebred Arabian horse racing.
His Highness Sheikh Humaid Bin Rashid Al Nuaimi, Supreme Council member and Ruler of Ajman, was one of the several sheikhs who visited the exhibition.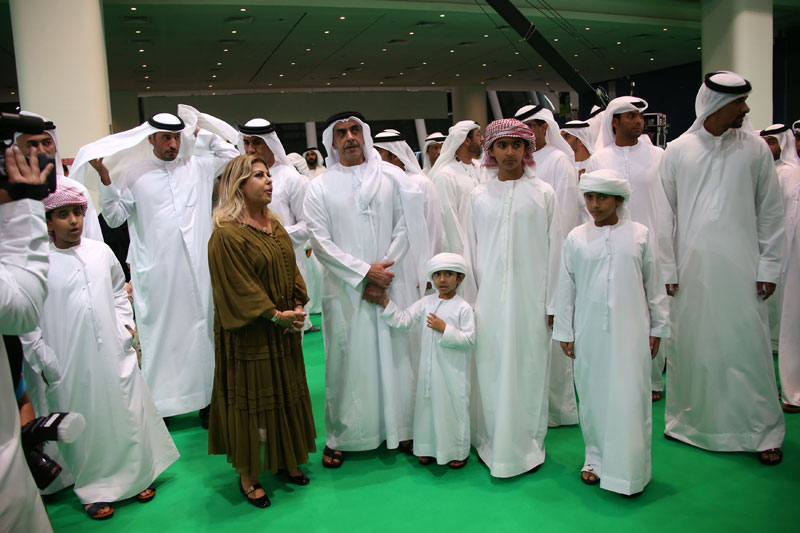 Since this year's main theme focuses on the legacy of Sheikh Zayed Bin Sultan Al Nahyan and his work in the areas of falconry, sustainable hunting and the protection of the environment, a huge space is dedicated for Sheikh Zayed and his interest in equestrian and related acitivities.
The Festival stall in particular and the exhibition in general were visited by several diplomats, officials and equestrian enthusiasts. Ms Lara Sawaya stated: "WE are pleased to have a huge presence at the 16th edition of the ADIHEX which is very important for us as we are celebrating the 10th year of the Festival. We expect a huge turnout in the next four days.''
ADIHEX is organized under the patronage of Sheikh Hamdan Bin Zayed Al Nahyan, Ruler's Representative in the Ai Dhafra Region and Chairman of the Emirates Falconers Club and supported by The Environment Agency - Abu Dhabi (EAD), International Fund for Houbara Conservation (IFHC), The Department of Culture and Tourism ( DCT) and The Cultural Programs and Heritage Festivals Committee. ADIHEX is a government initiative that aims primarily to promote Sustainable Hunting, Environmental and Cultural heritage.
As over the past few years, one of the main attractions of the His Highness Festival tent, was the daily raffle with prizes ranging from cameras, watches and cash vouchers.
The HH Sheikh Mansoor Bin Zayed Al Nahyan Global Arabian Horse Flat Racing Festival is sustained by the Abu Dhabi Tourism and Culture Authority and coordinated by Abu Dhabi Sports Council, with National Feed and Flour Production and Marketing Co. LLC as associate sponsors, The National Archives as the official partner and Emirates airline as the official carrier, in cooperation with Emirates Racing Authority, IFHRA, IFAHR, Emirates Arabian Horse Society, Ministry of Foreign Affairs, Abu Dhabi Youth Council, General Authority for Sports and sponsored by Ayadi LLC, Global United Veterinary Services LLC, Nissan Middleast Al Massood Automobiles, Nirvana Travels and Tourism LLC, Equicare Veterinary Services, Alawal Stud, Cavalos Equine Care & Supplies, SET Sustainable Environmental Technologies, Al Awani General Enterprises, Omeir Travels, Kabale, YAS Channel, Abu Dhabi Falconers Club, Emirates Falconers Club, Mohammed Bin Zayed Falconry and Desert Physiognomy School, Racing Post, Paris Turf, Al Wathba Centre, the UAE's General Women's Union, The Supreme Council for Motherhood and Childhood, the HH Sheikha Fatima Bint Mubarak Ladies Sports Academy, Abu Dhabi International Hunting and Equestrian Exhibition 2018 and the Abu Dhabi Equestrian Club.
Source: HH SH Mansoor Festival / Bharathi Hanumiah
Photos: Morhaf Al Assaf / Cidinha Franzão