Lively discussions on second day of World Arabian Horse Racing Forum in Madrid
HH Sheikh Mansoor Festival-supported race meeting in Sevilla on Saturday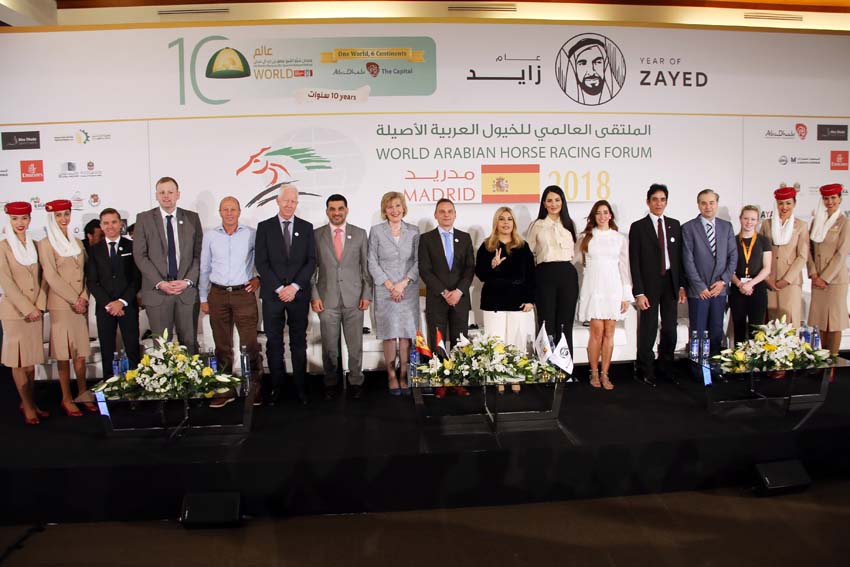 Madrid, Spain - The action in the ongoing three-day 9th edition of the World Arabian Horse Racing Forum at the Eurostars Madrid Tower Hotel will soon shift to the endurance circuit and to Seville for 'Year Of Zayed Race Day' meeting.
Organized by the HH Sheikh Mansoor Bin Zayed Al Nahyan Global Arabian Horse Flat Racing Festival, the Forum witnessed some lively debates on three more subjects on Thursday that ended with a grand dinner at the Castillo de Vineules later in the night.
Over 400 delegates representing over 80 countries are in attendance.
On Saturday, May 5 the Festival will be staging the 'Year Of Zayed Race Day' meeting at the Gran Hippodrome De L'Andalucia race course in Seville.
The Sheikh Zayed Bin Sultan Al Nahyan Cup which will make history as Seville's first ever Listed race will be run over a distance of 1500 metres and carries a prize fund of Euros 35,000.
The strong field of eight runners include Ajaayib, owned by HH Sheikh Hamdan Bin Rashid Al Maktoum, Dubai Deputy Ruler and Minister of Finance, Al Shamoos from Al Nujafi Racing and Al Nama from Al Shaqab Racing. The other runners are Diabolo Hipolyte, Amar, Domino de Maligne, Everest Hypolite and the Damien Watrigant-trained Dartianne.
The second of the three races slated for the day is the HH Sheikha Fatima Bint Mubarak Apprentice World Championship leg and seven runners will be in the fray in this 1900-metre contest. The race carries a prize fund of Euros 20,000 and the winner will be racing in the grand final on November 9 in Abu Dhabi.
The horses and Apprentice jockeys are: Al May'youb under Belgian Sanne de Ceulaer, Injal under Oman's Saif Al Balushi, Sandeed under Germany's Melanie Ehm, Al Neksh under Hunagrian Huszar Korinna, El Abid under Irish Apprentice Sophie Ralston, Haramil under Turkey's Mahson Turan and Electra de Faust under UK's Jack Osborn.
The third race under the Festival's umbrella is the opening leg of the 10-race newly-added HH Sheikha Lateefa Bint Mansoor Bin Zayed Al Nahyan Pony International race series.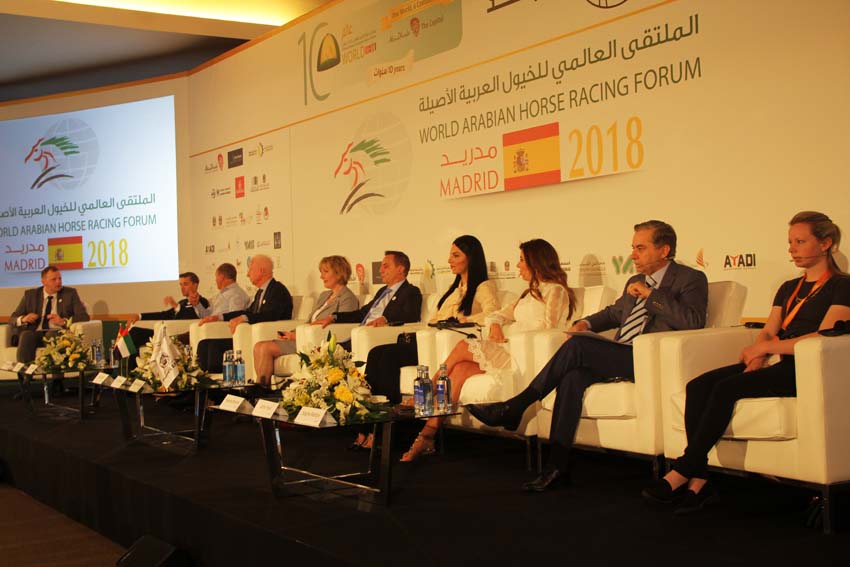 Jockey Weight And Accidents Insurances
On Thursday, the second day of the World Arabian Horse Racing Forum began with a session on 'Jockey Weight And Accidents Insurances'.
The session was moderated by Gary Capewell and on the panel were Richard Mullen (UK), Sarah Oliver (UK), Ernest Oertel (South Africa), Chris Watson (New Zealand), Kai Schirmann (Germany), Mahi Aramideh and Acaena Amoros from Elixir Clinic, Dr. Jamal Hout (Canada) and Sophie Ralston (Ireland).
Mullen said that since the Festival-supported Liverpool John Moores University (LJMU) study and report on how to improve the way Jockeys 'make-weight', it has been of great help to the jockeys and the perception of many of them has now begun to change. "Many of the jockeys have changed their mentality and now approach the issue as an active sportsperson or athlete," he said.
Dr. Jamal Hout involved in complementary medicine said the simple mantra was 'what to eat, how to eat and inclusion of exercise while Mahi Aramideh of Cyprus said the infusion of balanced minerals and vitamins as per one's need certainly helped in keeping weight.
Trainer Oertel, who lost a leg following an accident but is now back on horses training, and young Apprentice jockey Sophie Ralston spoke about insurance issues following their accidents. Jockey coach Kai Schirmann said Germany tied jockey's insurance with the issue of licenses and added that they were valid world-wide. Mullen and Xavier Ziani spoke of the challenges they faced as Insurance companies never made it easy for insurance to jockeys. Khalid Al Naboodah and Oertel made a plea that insurances should also cover all stable staff and not just jockeys and hoped in future this issue could be addressed.
Sarah Olivier added that since the Festival's involvement, lady jockeys and Apprentice jockeys and even those at the amateur level were looking at a the sport as a career path which augurs well for the future of racing.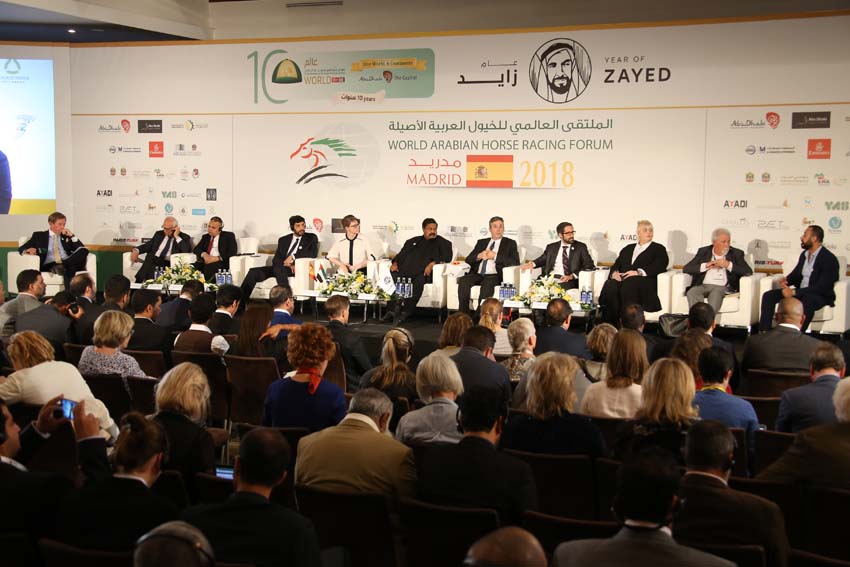 Session on Media, PR & Data Base
The 'Session on Media, PR & Data Base' was moderated by Derek Thompson and the panelists were Michel Abu Najm (FRA), Katherine Fidler, Racing Post (UK), Satya Narayan (India), Francois Reeves, Paris Turf (FRA), Jonathan Howarths (USA), Nadine Frampton (Australia), Peter Staple (AUS), Michel Chahda (Lebanon), Ibrahim Omran (Egypt) and Mohamed Al Nuaimi (UAE).
Staple, who wrote the autobiography of former Australian cricket captain Ricky Ponting, said newspapers around the world were cutting down on specialized sports reporters pointing out that in his newspaper horse racing reporters from 24 had now been reduced to two!
The panelists agreed that use of modern technology and social media should be resorted to by all those in the sport. American Howarths demonstrated how he covers races on the spot and relays through Facebook and to the AJC live.
Commenting on the challenges of reporting on Arabian races, Satya felt the member countries and racing venues must do their bit in providing information and that was a big problem at present when compared to other sport.
Delegates also got a sneak preview of a tracking device from Paris Turf which is carried by the racing horse and transmits a lot of details to make the race more entertaining as well as give a lot of minute details to all connected. Francois Reeves said the product was in the final stages and would soon be available.
The need for a comprehensive data base for Arabian racing was highlighted and Ms. Lara Sawaya stated that the Festival was working on it and it needed time.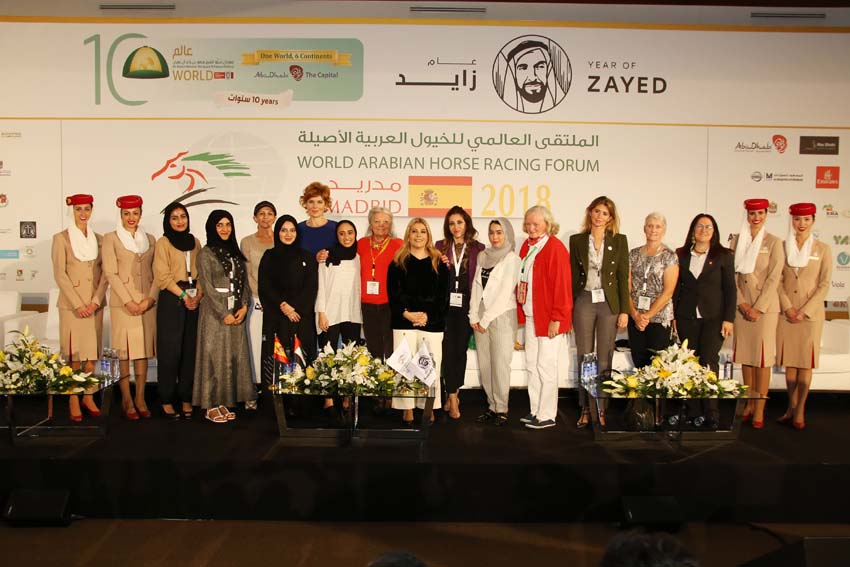 Women in Racing
The final session on the second day was on Women in Racing and was moderated by Australia's only woman race caller Victoria Shaw. On the panel were Eman Saiqal (UAE), Shathra Al Hajjaj (UAE), Terri Eaton (USA), Ikram Saab (LEB), Barbara De Mieulle (FRA), Heide Bernsdorff (Germany), Mary Martin (France), Aisha (UAE) and Lara Sawaya (UAE).
Ms. Sawaya stressed that the Festival's support for women in racing and endurance was well documented and added that the UAE under its wise leaders was always ahead in promoting women in sport. "The UAE has one of the highest number of women in all work places, highest number of women ministers and highest number of woman ambassadors- all pointing to a great future," she said.
"There will always be challenges but we must confront them and not shy away," Ms. Sawaya said.
Eman Saiqal pointed out that from 27 UAE lady riders in 1999 there were 1777 registered endurance lady riders at present.
Shathra, a former flat race jockey and current member of the UAE ladies endurance team, recalled the support to her in her initial days and said UAE was a great country to be a women sportsperson. Lebanon's Saada hailed the role in women's empowerment that the Festival was promoting and others on the panel agreed that the UAE and the Festival were pioneering the cause of women all over the world.
Apart from the flat racing in Sevilla, the Festival will also be supporting a 100-mile endurance ride to mark 100 years of Zayed and the HH Sheikha Fatima Bint Mubarak Ladies Nations Cup Endurance ride which will be also run on Saturday. The UAE ladies team will be vying for honours in the team championship.
The HH Sheikh Mansoor Bin Zayed Al Nahyan Global Arabian Horse Flat Racing Festival is sustained by the Abu Dhabi Tourism and Culture Authority and coordinated by Abu Dhabi Sports Council, with National Feed and Flour Production and Marketing Co. LLC as associate sponsors, The National Archives as the official partner and Emirates airline as the official carrier, in cooperation with Emirates Racing Authority, IFHRA, IFAHR, Emirates Arabian Horse Society, Ministry of Foreign Affairs, Abu Dhabi Youth Council, General Authority for Sports and sponsored by Ayadi LLC, Global United Veterinary Services LLC, Nissan Middleast Al Massood Automobiles, Nirvana Travels and Tourism LLC, Equicare Veterinary Services, Alawal Stud, Cavalos Equine Care & Supplies, SET Sustainable Environmental Technologies, Al Awani General Enterprises, Omeir Travels, Kabale, YAS Channel, Abu Dhabi Falconers Club, Emirates Falconers Club, Mohammed Bin Zayed Falconry and Desert Physiognomy School, Racing Post, Paris Turf, Al Wathba Centre, the UAE's General Women's Union, The Supreme Council for Motherhood and Childhood, the HH Sheikha Fatima Bint Mubarak Ladies Sports Academy, Abu Dhabi International Hunting and Equestrian Exhibition 2018, Abu Dhabi Equestrian Club, Anantara Eastern Mangroves Spa and Resort.
Source: HH SH Mansoor Festival / Satya Narayan
Photos: Morhaf Al Assaf and Cidinha Franzão