Argentina's Spelanzon on Altariq wins 100-km HH Sheikha Fatma Ladies ride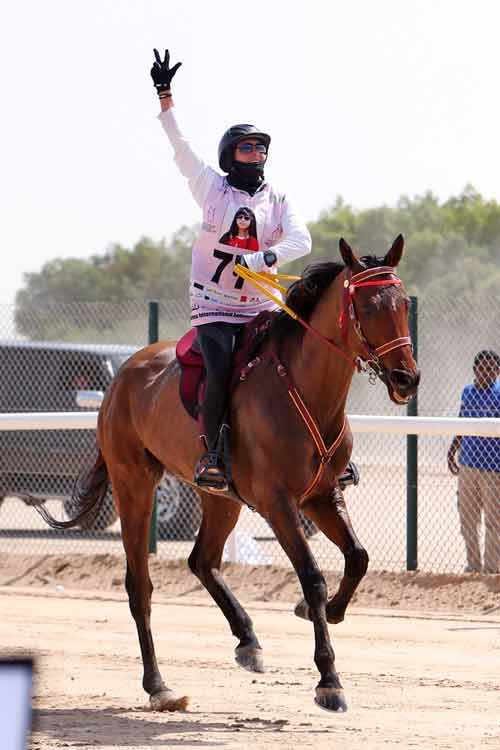 In a terrific late surge, Argentina's Martina Spelanzon riding Altariq scored a fantastic victory for M7 Endurance Stables in the 100-km HH Sheikha Fatma Bint Mansoor Bin Zayed Al Nahyan Ladies Endurance Cup ride at the Emirates International Endurance Village in Al Wathba, Abu Dhabi on Friday, February 23, 2018. The 100-km ride was organized by the HH Sheikh Mansoor Bin Zayed Al Nahyan Global Arabian Horse Flat Racing Festival and run in four loops of 40kms, 25kms, 19kms and 16kms.
The UAE's Afra Al Suwaidi on MM Bufa looked to be heading smoothly after she was leading in the second and third stages. However going into the final loop of 16kms, it was Spelanzon on the 8-year-old bay gelding Altariq, who set the pace and moved from fourth place to the lead and finally won in a time of 3 hours 21 minutes and 02 seconds. She finished 18 seconds ahead of Italian Guilia Vigevani on Tudo Du Cambou while the UAE's Maitha Alkaabi on Djarena finished third a further seven seconds later. Afra had to settle for 6th place.
It was a great win for the M7 Endurance Stables owned by HH Sheikh Mohammed Bin Rashid Al Maktoum, Vice President and Prime Minister of the UAE and Ruler of Dubai.
"One year ago, somebody told me: 'To be last doesn't mean you are losing; perhaps you are getting ready to a big victory'. Today, I feel fortunate to live these moments with such passion and love for what I do. You have to work hard and have a lot of patience, everything comes in life", said Spelanzon.
Earlier in the morning 123 lady riders from the UAE and other countries around the world took part in the annual ride held under the directives of HH Sheikh Mansoor Bin Zayed Al Nahyan, Deputy Prime Minister and Minister of Presidential Affairs.
The top three lady riders won a car each while those who finished between 4th and 10th also received cash awards.
Meanwhile on the sidelines of the ride a lot of events were lined up for young girls and their families.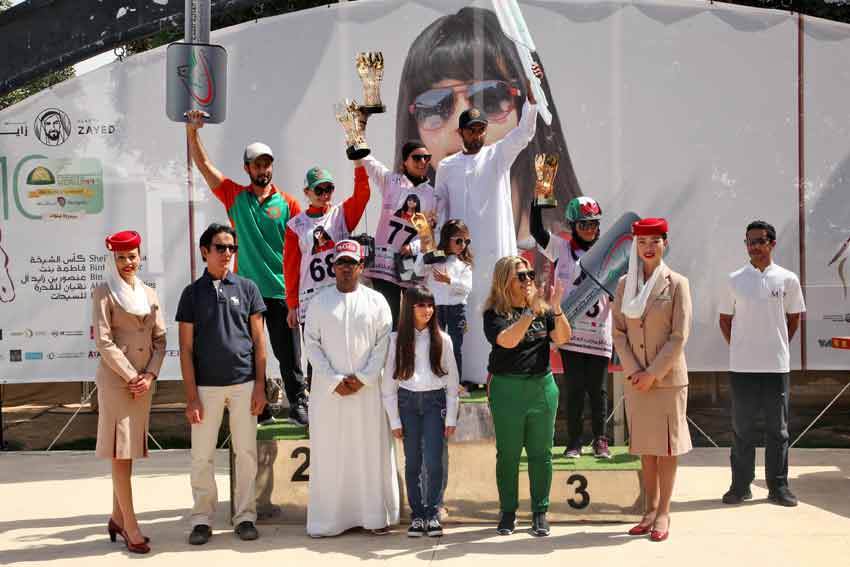 HH Sheikha Fatima Bint Mansoor Bin Zayed Al Nahyan and her sister HH Sheikha Lateefa Bint Mansoor Bin Zayed Al Nahyan, Ms. Lara Sawaya, Executive Director of the HH Sheikh Mansoor Bin Zayed Al Nahyan Global Arabian Horse Flat Racing Festival, General Manager of Wathba Stallions, Chairperson of the International Federation of Horse Racing Academies (IFHRA), Chairperson of Ladies & Apprentice Racing Committees in the International Federation of Arabian Horse Racing Authorities (IFAHR), Adnan Sultan, Director of the Abu Dhabi Equestrian Club and Musalam Al Amri, Director of Al Jazira 1 & 2 stables, crowned the first three winners.
Ms. Sawaya said the ride provided the perfect opportunity to discover fresh talent particularly from the UAE lady riders and this would boost the UAE national ladies team which takes part in international endurance competitions.
"It was great to watch a large number of girls attend today's ride and also many young girls take part in various competitions. A team of French acrobats performed various tricks and the girls and their families enjoyed it. A number of female artistes taught girls the art of drawing, and special prizes were awarded to girls in the age category of 7-9 years," Ms Sawaya said.
HH Sheikha Fatma Bint Mansoor and HH Sheikha Lateefa Bint Mansoor handed the prizes to the winners.
HH Sheikha Fatma also presented to her sister HH Sheikha Lateefa the HH Sheikh Lateefa Bint Mansoor Bin Zayed Al Nahyan World Championship for Ponies Cup. The 10-race series for the HH Sheikh Latifa Bint Mansoor Bin Zayed Al Nahyan World Ponies Championship will be run as part of the HH Sheikh Mansoor Festival and will culminate in the grand final in November in Abu Dhabi.
The HH Sheikh Mansoor Bin Zayed Al Nahyan Global Arabian Horse Flat Racing Festival is sustained by the Abu Dhabi Tourism and Culture Authority and coordinated by Abu Dhabi Sports Council, with National Feed and Flour Production and Marketing Co. LLC as associate sponsors, The National Archives as the official partner and Emirates airline as the official carriers, Al Massood Automobiles and Nissan Middleast as official car partners, in cooperation with Emirates Racing Authority, IFAHR, Emirates Arabian Horse Society, Ministry of Foreign Affairs, General Authority for Sports and sponsored by Ayadi LLC, Global United Veterinary Services LLC, Wathba Stallions, Abu Dhabi Falconers Club, Emirates Falconers Club, Mohamed Bin Zayed Falconry and Desert Physiognomy School, Abu Dhabi National Exhibition Centre (ADNEC), Al Awani General Enterprises, Kabale, Omeir Travels, Laboratories Fadia Karam Cosmetics, YAS Channel, Racing Post, Paris Turf, Al Wathba Centre, the UAE's General Women's Union, The Supreme Council for Motherhood and Childhood, the HH Sheikha Fatima Bint Mubarak Ladies Sports Academy, Abu Dhabi International Hunting and Equestrian Exhibition 2018, Abu Dhabi Equestrian Club, Eastern Mangroves Suites-Abu Dhabi by Jannah, Anantara Eastern Mangroves Spa and Resort.

Source: HH SH Mansoor Festival / Satya Narayan
Photos: Morhaf Al Assaf