Al Shamoos wins Prix Burkeguy-Wathba Stallions Cup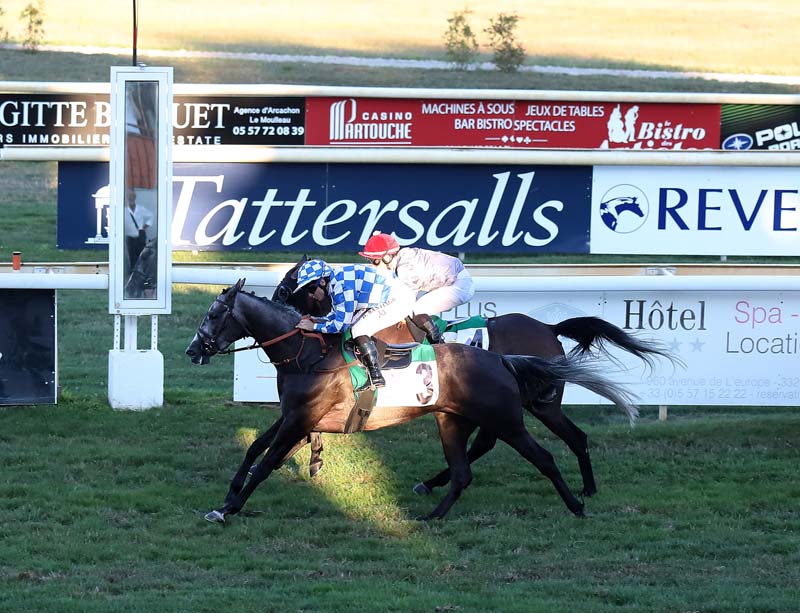 La Teste de Buch, France - Al Shamoos came up tops in a close finish in the Prix Burkeguy-Wathba Stallions Cup race for Purebred Arabians on Sunday, July 2 in at the La Teste Buch racecourse in France.
Driving home the 4-year-old No Risk Al Maury mare was lady jockey Delphine Santiago as Al Shamoos forged ahead in the final furlong after Al Naama under Julien Auge had done all the running.
Chasing home the two mares was Ahzar, the 5-year-old horse ridden by Ioritz Medizabal.
Al Shamoos won the 1400-metre race in a timing of 1:31.60.
The Euros 25,000 race was part of the HH Sheikh Mansoor Bin Zayed Al Nahyan Global Arabian Horse Flat Racing Festival's Wathba Stallions Cup series. The Festival is celebrating its 10th year since inception and the year 2018 also marks the 100th birth anniversary of Sheikh Zayed Bin Sultan Al Nahyan, the late founder of the UAE and a passionate promoter of Purebred Arabian racing.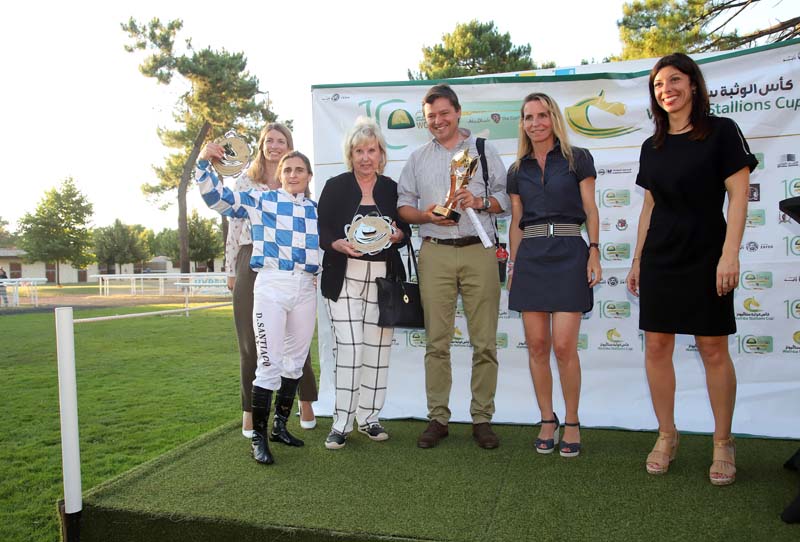 The HH Sheikh Mansoor Bin Zayed Al Nahyan Global Arabian Horse Flat Racing Festival is sustained by the Abu Dhabi Tourism and Culture Authority and coordinated by Abu Dhabi Sports Council, with National Feed and Flour Production and Marketing Co. LLC as associate sponsors, The National Archives as the official partner and Emirates airline as the official carrier, in cooperation with Emirates Racing Authority, IFHRA, IFAHR, Emirates Arabian Horse Society, Ministry of Foreign Affairs, Abu Dhabi Youth Council, General Authority for Sports and sponsored by Ayadi LLC, Global United Veterinary Services LLC, Nissan Middleast Al Massood Automobiles, Nirvana Travels and Tourism LLC, Equicare Veterinary Services, Alawal Stud, Cavalos Equine Care & Supplies, SET Sustainable Environmental Technologies, Al Awani General Enterprises, Omeir Travels, Kabale, YAS Channel, Abu Dhabi Falconers Club, Emirates Falconers Club, Mohammed Bin Zayed Falconry and Desert Physiognomy School, Racing Post, Paris Turf, Al Wathba Centre, the UAE's General Women's Union, The Supreme Council for Motherhood and Childhood, the HH Sheikha Fatima Bint Mubarak Ladies Sports Academy, Abu Dhabi International Hunting and Equestrian Exhibition 2018, Abu Dhabi Equestrian Club, Anantara Eastern Mangroves Spa and Resort.
Source: HH SH Mansoor Festival / Satya Narayan