AF Ssayeb leads 1-2-3 for Al Naboodah, Oertel in Wathba Stallions Cup in Abu Dhabi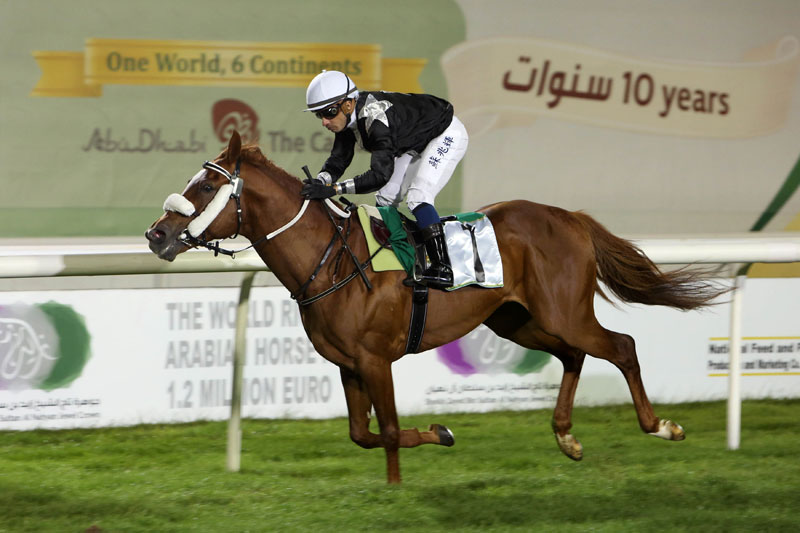 Silvestre de Souza on AF Ssayeb
The UAE's Champion Purebred Arabian horse owner, Khalid Khalifa Al Naboodah and trainer Ernst Oertel combined to register a 1-2-3 finish in the HH Sheikh Mansoor Bin Zayed Al Nahyan Global Arabian Horse Flat Racing Festival's Wathba Stallions Cup For Private Owners Only race at the Abu Dhabi Equestrian Club race course on Sunday, January 21, 2018.
Al Naboodah and Oertel were responsible for three of the eight runners in the 1200m handicap which carried a prize fund of DH 80,000 sponsored by the Festival.
Jockey Antonio Fresu, who had opened the evening with a win on AF Waqas for Al Naboodah and Oertel had to settle for second on AF Thobor in the Wathba Stallions Cup. The pair tracked AF Ssayeb from the outset but were unable to get past his stable companion, never headed under Silvestre de Sousa, with AF Ashras staying on late to claim third for Tadhg O'Shea. Like AF Waqas, all three are bred by the owner and by the same sire, AF Al Buraq, who he also bred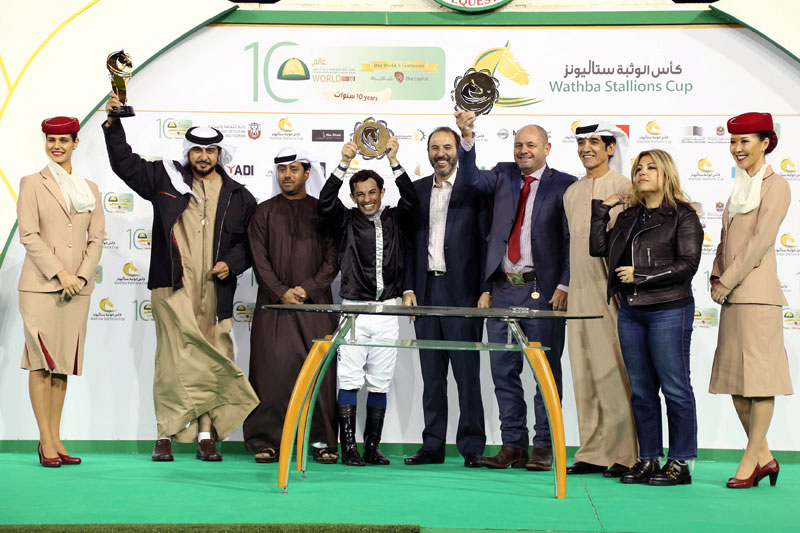 Oertel said: "Obviously we have to be delighted with that and AF Ssayeb and AF Thobor were first and second the whole way with AF Ashras staying on nicely. The winner only ran last week when he needed the race after six weeks off and this was just his second start of the season. He has now won four times over 1200m, three of them here at Abu Dhabi and, all being well, he will be back here next Sunday for a race over 1000m as he has plenty of speed and has won over that trip before."
The HH Sheikh Mansoor Bin Zayed Al Nahyan Global Arabian Horse Flat Racing Festival is sustained by the Abu Dhabi Tourism and Culture Authority and coordinated by Abu Dhabi Sports Council, with National Feed and Flour Production and Marketing Co. LLC as associate sponsors, The National Archives as the official partner and Emirates airline as the official carriers, Al Massood Automobiles and Nissan Middleast as official car partners, in cooperation with Emirates Racing Authority, IFAHR, Emirates Arabian Horse Society, Ministry of Foreign Affairs, General Authority for Sports and sponsored by Ayadi LLC, Global United Veterinary Services LLC, Wathba Stallions, Abu Dhabi Falconers Club, Emirates Falconers Club, Mohamed Bin Zayed Falconry and Desert Physiognomy School, Abu Dhabi National Exhibition Centre (ADNEC), Al Awani General Enterprises, Kabale, Omeir Travels, Laboratories Fadia Karam Cosmetics, YAS Channel, Racing Post, Paris Turf, Al Wathba Centre, the UAE's General Women's Union, The Supreme Council for Motherhood and Childhood, the HH Sheikha Fatima Bint Mubarak Ladies Sports Academy, Abu Dhabi International Hunting and Equestrian Exhibition 2018, Abu Dhabi Equestrian Club, Eastern Mangroves Suites-Abu Dhabi by Jannah, Anantara Eastern Mangroves Spa and Resort.
| | |
| --- | --- |
| | |

Source: HH SH Mansoor Festival / Satya Narayan
Photos: Morhaf Al Assaf