Huge boost to Sheikh Mansoor's Mentorship programme
17 students finish their stints in different countries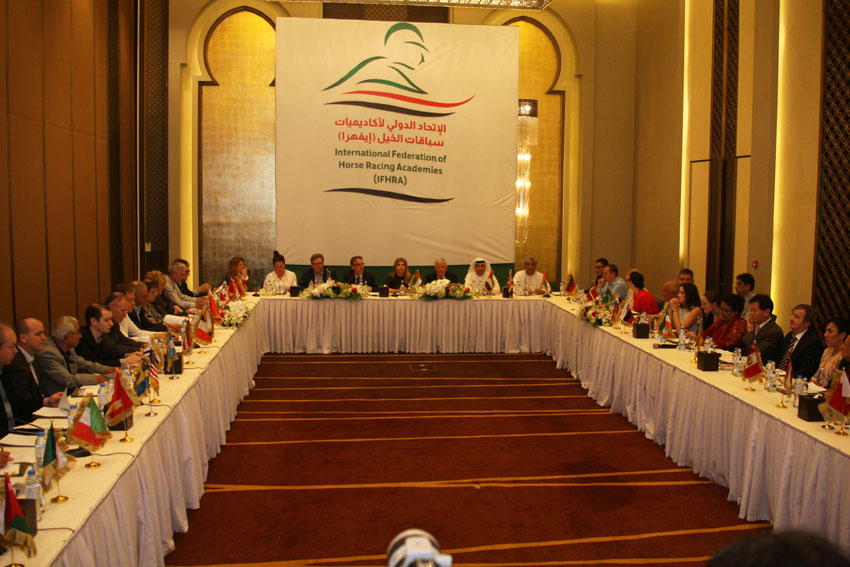 The International Federation of Horse Racing Academies, IFHRA, Mentorship Porgramme had a successful year in 2017 with 18 students getting an opportunity to make use of the Racing Scholarship Fund, RSF.
The initiative, which falls under the umbrella of His Highness Sheikh Mansoor Bin Zayed Al Nahyan Global Arabian Horse Flat Racing Festival, helps provide professional mentorship opportunities for students outside their countries. These students are either currently enrolled in or have recently graduated from an IFHRA member Racing Academy or national representative.
It is very significant to note that of the 18 students, 14 have already completed their programmes, while two are undergoing training and one is likely to start on December 9. The students hail from different parts of the globe including Australia, Denmark, Ireland, Oman, Puerto Rico, South Korea, Sweden, South Africa, United Kingdom and the USA.
The RSF is the brainchild of His Highness Sheikh Mansoor Bin Zayed Al Nahyan, UAE Deputy Prime Minister and Minister of Presidential Affairs, who aims to help all those equestrian-related enthusiasts to learn from other countries' experiences and equip themselves to become better in their chosen equestrian activity.

All the participants hailed the success of the programme and were grateful for the mentorship programme which enriched their expertise and knowledge of the equine sport in different disciplines that they chose to train.

They thanked His Highness Sheikh Mansoor Bin Zayed Al Nahyan for his support to IFHRA students and Ms. Lara Sawaya, Executive Director of the HH Sheikh Mansoor Bin Zayed Al Nahyan Global Arabian Horse Flat Racing Festival, Chairperson of the International Federation of Horse Racing Academies (IFHRA) and Chairperson of Ladies & Apprentice Racing Committees in the International Federation of Arabian Horse Racing Authorities (IFAHR) and General Manager of Wathba Stallions for taking His Highness' vision forward and helping youngsters."

Ms Lara Sawaya was equally elated over the success of the programme. "IFHRA opened its doors in 2014 November but the RSF programmes started in 2016. Many successful youngsters have availed of this scholarship, thanks to His Highness Sheikh Mansoor Bin Zayed Al Nahyan. We hope all the students will grow into great professionals. We are following His Highness' instructions to ensure that the students get maximum benefits from the RSF as he is passionate about Purebred Arabians. We hope to go a step further by introducing new programmes to encourage the students."
"The RSF's goal is to improve the horse racing and breeding industry workforce by providing deserving racing academy students or recent graduates with an opportunity to gain new knowledge and experience in equitation and overall horsemanship, while learning about new culture and customs," she said.
Following the significance of the programme, there will be a discussion on "The IFHRA Mentorship Programme: New Horizons for Students" during the upcoming HH Sheikha Fatima Bint Mubarak IFHRA Conference For Training and Education on November 9, in Abu Dhabi. The conference is part of the "One World, Six Continents" Abu Dhabi, The Capital, which features the grand finale of the His Highness Sheikh Mansoor Festival races and the world's richest race for Purebred Arabian horses, Sheikh Zayed Bin Sultan Al Nahyan Jewel Crown.
The discussion, which will be moderated by Derek Thomson, will have Remi Bellocq, Executive Direcor, North American Racing Academy and General Secretary of IFHRA, Melissa Weatherley, Athlete and Careers Development Manager, Racing Victoria, Keith Rowe, Director, Racing Academy and Centre of Education, Ireland and Jack Pilkington, RACE Graduate / 2017 Mentorship Recipient, who Currently Assistant Trainer in Dubai.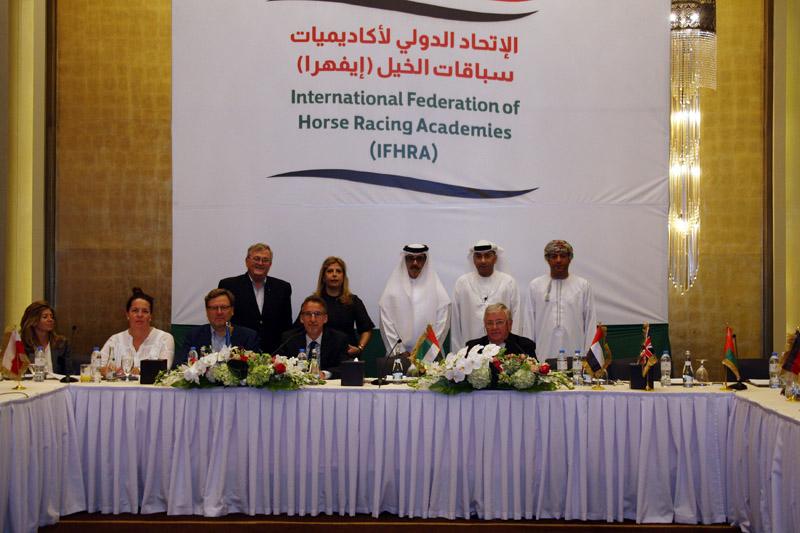 The HH Sheikh Mansoor Bin Zayed Al Nahyan Global Arabian Horse Flat Racing Festival is sustained by the Abu Dhabi Tourism and Culture Authority and coordinated by Abu Dhabi Sports Council, with National Feed and Flour Production and Marketing Co. LLC as associate sponsors, The National Archives as the official partner and Emirates airline as the official carriers, in cooperation with Emirates Racing Authority, IFAHR, Emirates Arabian Horse Society, Ministry of Foreign Affairs, General Authority of Youth and Sports Welfare with and sponsored by Ayadii LLC, Global United Veterinary Services LLC, Wathba Stallions, Abu Dhabi Falconers Club, Emirates Falconers Club, Mohamed Bin Zayed Falconry and Desert Physiognomy School, Abu Dhabi National Exhibition Centre (ADNEC), Al Awani General Enterprises, Kabale, Omeir Travels, Dr Nader Saab Switzerland, Laboratories Fadia Karam Cosmetics, YAS Channel, Racing Post, Paris Turf, Al Wathba Centre, the UAE's General Women's Union, The Supreme Council for Motherhood and Childhood, the HH Sheikha Fatima Bint Mubarak Ladies Sports Academy, Abu Dhabi International Hunting and Equestrian Exhibition 2017, Abu Dhabi Equestrian Club, Eastern Mangroves Suites-Abu Dhabi by Jannah, Anantara Eastern Mangroves Spa and Resort.
Source: HH SH Mansoor Global Arabian Flat Racing Festival / Bharathi Gowda