Program for the Nov 3 to 9 "One World,6 Continents,
Abu Dhabi The Capital"
Nov 3
At 12 pm at Anantara Eastern Mangroves
- Official Draw and Declarations of the 3 top races
- Shk Zayed Bin Sultan Al Nahyan Jewel Crown
- HH Sheikha Fatima Bint Mubarak Ladies World Championship IFAHR
- HH Sheikha Fatima Bint Mubarak Apprentice World Championship IFAHR
Followed by Luncheon at Anantara
Guests' arrivals to the hotels
-Anantara Eastern Mangroves
-Jannah Burj Al Sarab
-Park Rotana
Nov 4
10 am
IFHRA ( Int'l Federation of Horse Racing Academies) General Assembly At Anantara Eastern Mangroves
6 pm
Press Conference at the Anantara Eastern Mangroves Ballroom followed by a Cocktail reception
HH Sheikha Fatima Bint Mubarak Training and Education at the UAE National Archive Conference Hall
Nov 5
10 am Speech of TCA Abu Dhabi
10.05 am Speech of HE Aref Alawani - Secretary General AD Sports Council
10.10 am Speech of HE Dr Abdulla Rayess - Director General UAE National Archive
10.15 am Speech of HE Sami Al Boueinen Chairman of IFAHR
10.20 am Speech of HE Essam Abdulla - Emirates Arabian Horse Society
10.25 am Speech of ERA
10:30 – 12:00
Session 1:
Jockey Training Worldwide and Prevention of Racing Accidents
Moderator: Liz Price
Speakers:
-Richard Perham, Jockey Coach, British Racing School
-Yasser Mabrouk, Head of Arabic Department, Technical Mgr. Emirate Racing Association
-Gary Waterston, Jockey Coach, South African Jockey Academy
-Kai Schirmann, Director, German Jockey School
-Matthew Hyland, Jockey Coach, Racing Victoria
- Remi Bellocq, Exec. Dir. North American Racing Academy
Talking Points:
· Foundation Training
· Training Courses
· Exams
· Sharing international experiences to encourage the development of training with countries that do not currently have formal training.
· Content of course curriculae prior to licensing.
12.15pm - 1.10pm
Luncheon at Anantara Eastern Mangroves
13:30 – 15:00
Session 2:
Jockeys - High Performance Athletes - At The Top
Moderator: Derek Thompson
Speakers:
- Simon Milton, "Professionalism in Sport"
- Jean Cruguet, retired Triple Crown winning jockey of Seattle Slew
- Pat Buckley Racing Director AD Eq Club, IFHRA Vice Chairman
-Saeed Al Mazrouei ( UAE Apprentice)
-Ahmad Aljtebi ( UAE Professional)
-Pierre Biancon AFASEK (Fr)
Talking Points:
How to become a successful jockey
How to maintain the high performance
Continuing professional development for jockeys
Advise to beginners
3.15pm to 4.45 pm
Session 3
Controlled Jockey Diet, Weight Control, Healing and the Research of Liverpool John Moores University 2nd part
Moderator: Gary Capwell (UK)
Speakers:
-Dr Georges Wilson
-Dr Grame Close
-Dr Philip Pritchard
-Dr James Morton
-Franny Norton
-Dr Jamal Hout , NAET Specialist (Canadian)
- Dr Guillaume Sellier AFASEK Fr
8 pm Welcoming Dinner at Eastern Mangroves Anantara with a high class Fashion Show for the Lebanese Designer " Amal Azhari"
Nov 6
10.30 am to 12 pm
Session 4
PR and the Media for Racing Industry Recruitment, Training and Education and Arbitration USA
a) Ways to approach the Media
b) What makes the Racing Industry more attractive
c) Future of Jockeys and Stable Staff
d) What can attract Young People to become a Jockey
Moderator: Philip Brannan
-Derek Thompson, TV Presenter Racing (UK)
-Pamela Burton Horse Reporter (US)
-Gary Capwell TV Presenter UK and ARO
-Adeline Gombaud ,Jour De Galop
-John Cobb, Racing Post (UK)
-Victoria Shaw Ladies in Racing ( Australia)
-Jean Claude Allies, Paris Turf (UK)
12.30 to 1.45 pm
Workshop
Moderators Derek Thompson and Lara Sawaya
Luncheon at Anantara Eastern Mangroves
8 pm Dinner at The Ritz Carlton, Abu Dhabi
Nov 7
10.30 am to 12 pm
Breeding session
Moderator : Derek Thompson
-Essam Abdulla ,General Manager EAHS ( UAE)
-Martial BOISSEUIL (FR)
-Mark Powell ( US)
-Scott Powell (US)
-Diane Waldron ( US)
-Mehmet Yousuf Marangoz (tTrkey)
- Francois Comte (FR)
Nov 7 at Jannah Burj Al Sarab
10 am -1 pm
Work shop for the Apprentice jockeys with the best coaches and teachers for the first time in the World
Luncheon at Anantara Eastern Mangroves
Nov 7
8 pm Award Gala Dinner
Long dress for ladies and black suit for men at Emirates Palace Terrace
Nov 8
One World,6 Continents, Abu Dhabi The Capital Featuring the World's Richest Arabian Horse Race 1.2 million Euros
- Shk Zayed Bin Sultan Al Nahyan Jewel Crown
- HH Sheikha Fatima Bint Mubarak Ladies World Championship IFAHR
- HH Sheikha Fatima Bint Mubarak Apprentice World Championship IFAHR
- Wathba Stud Farm Cup
- UAE Martyrs' Cup
- UAE Martyrs' Trophy
- 9.30 pm
Wild Victory Party at the Anantara Eastern Mangroves
Nov 9
Departure of guests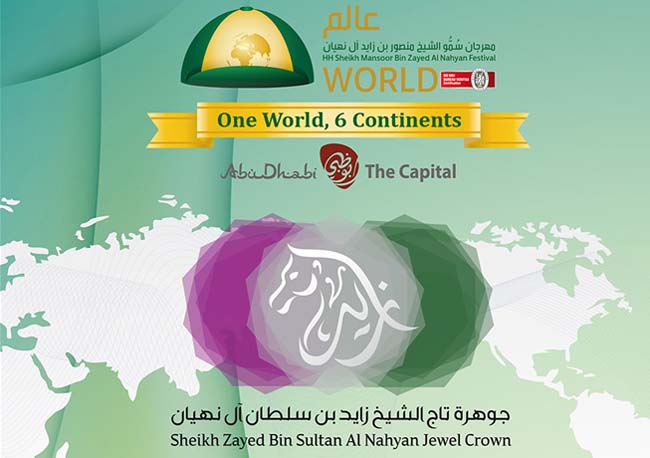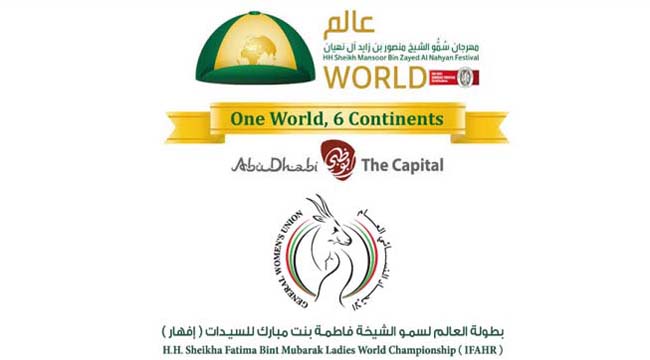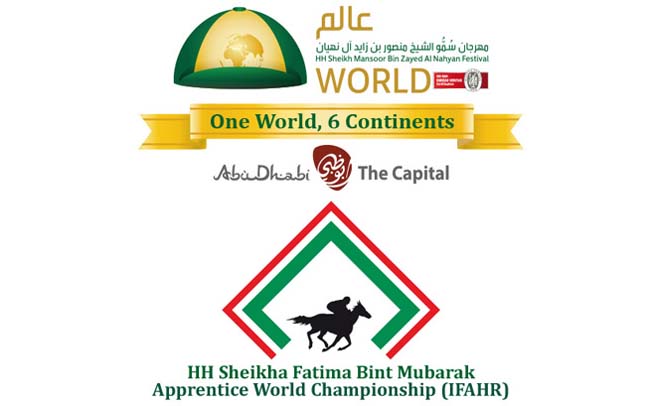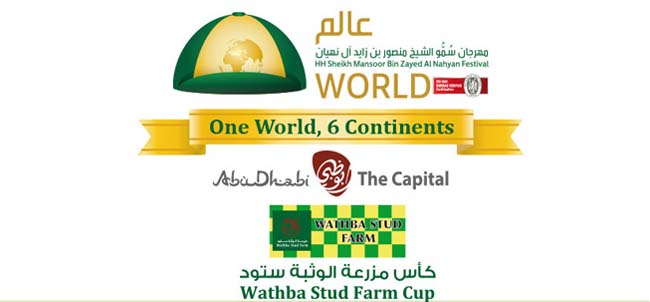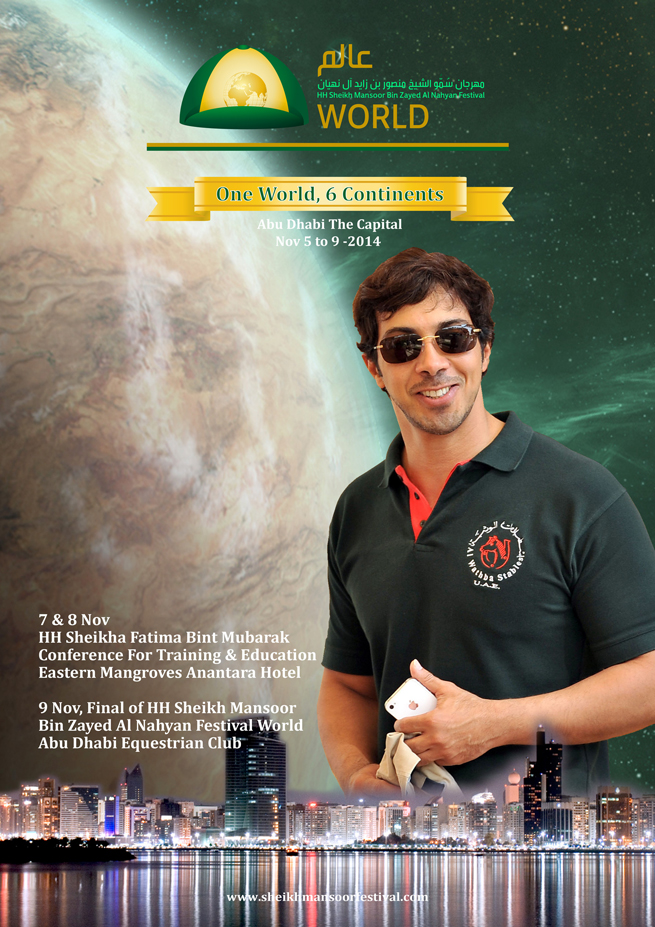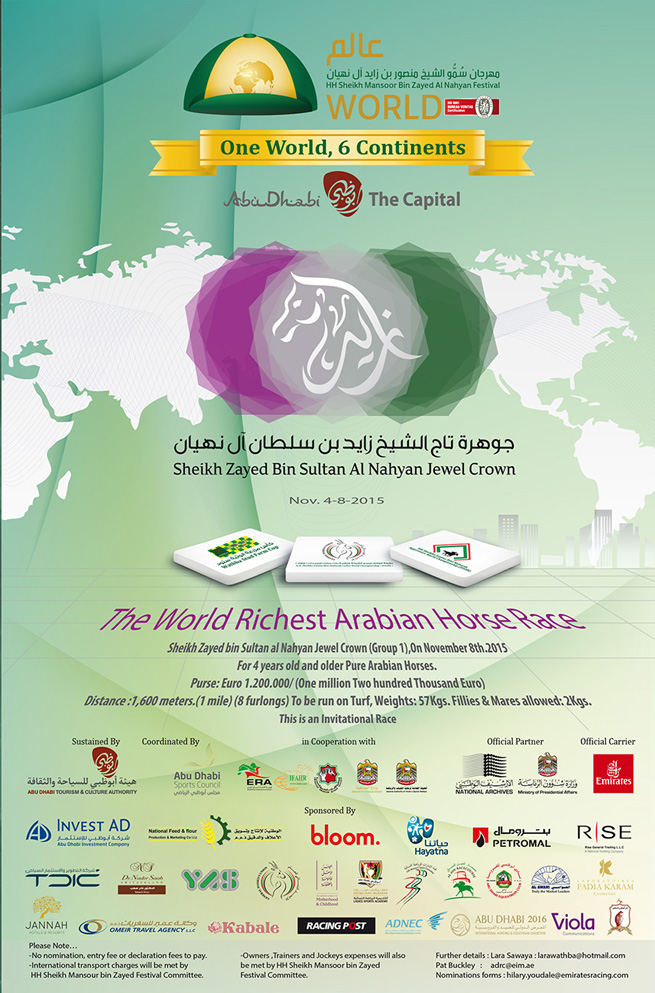 The HH Sheikh Mansoor Bin Zayed Al Nahyan Global Arabian Horse Flat Racing Festival is sustained by the Abu Dhabi Tourism and Culture Authority and coordinated by Abu Dhabi Sports Council in cooperation with Emirates Racing Authority, IFAHR, Emirates Arabian Horse Society, Ministry of Foreign Affairs, General Authority of Youth and Sports Welfare with The National Archives as the official partner and Emirates airline as the official carriers and sponsored by Invest AD, National Feed and Flour Production and Marketing Co. LLC, Bloom, Petromal, Rise General Trading Co. LLC, Hayatna, Tourism Development & Investment Company (TDIC), Abu Dhabi National Exhibition Centre (ADNEC), Al Awani General Enterprises, Kabale, Al Wathba Centre, the UAE's General Women's Union, The Supreme Council for Motherhood and Childhood, the HH Sheikha Fatima Bint Mubarak Ladies Sports Academy, Abu Dhabi International Hunting and Equestrian Exhibition 2015, Dr. Nader Saab Switzerland, Al Wathba Center, Abu Dhabi Equestrian Club, Eastern Mangroves Suites-Abu Dhabi by Jannah, Yas Channel, Omeir Travels, Racing Post and Laboratories Fadia Karam Cosmetics.
Source: HH SH Mansoor Global Arabian Flat Racing Festival / Satya Narayan
Photo: Morhaf Al Assaf