Paddys Day on course for Triple Jewel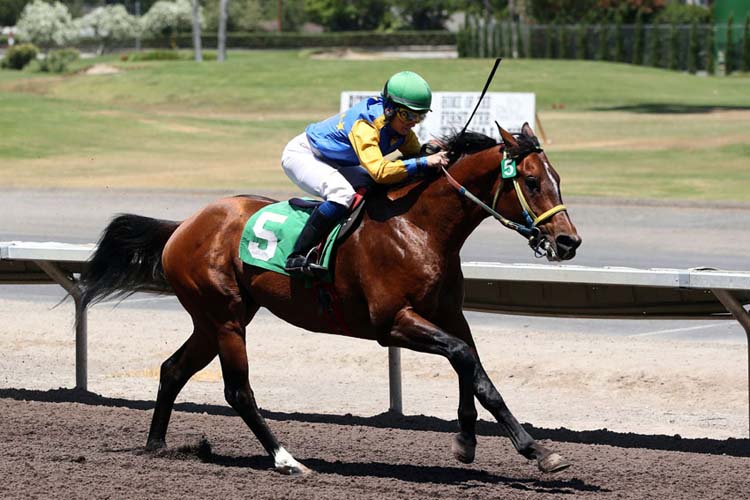 Kelsi Purcell on Paddys Day
Double for Powell in HH Sheikh Mansoor Festival races in Pleasanton, California
Paddys Day kept himself in contention for the HH Sheikh Mansoor Bin Zayed Al Nahyan Global Arabian Horse Flat Racing Festival's newly-introduced Triple Jewel bonus of US$ 150,000 with a superb win in the second leg here in Pleasanton, California on Sunday, July 5.
Ridden by Kelsi Purcell, Paddys Day won the 6-furlong Sheikh Zayed Bin Sultan Al Nahyan Emerald Arabian Triple Jewel (Grade 3) race to collect 8 points which added to his second place finish in Houston on March 7 gives him the lead with 15 points. Burning Fleet, winner of the first leg did not take part here while Our Princes under Kirsten Swan picked up 6 points for a third place finish here behind Sand Victor (Pedros Flores up). Our Princes also has five points from the Houston race and thus the battle in the final leg to be held in Los Alamitos on September 19.
Paddys Day from Scott Powell's yard and the trainer registered a grand double in front of a large crowd when Sand On Fire under American jockey Sandee Martin made the most of the late scratching of favourite Ms Dixie to win the HH Sheikha Fatima Bint Mubarak Ladies World Championship race.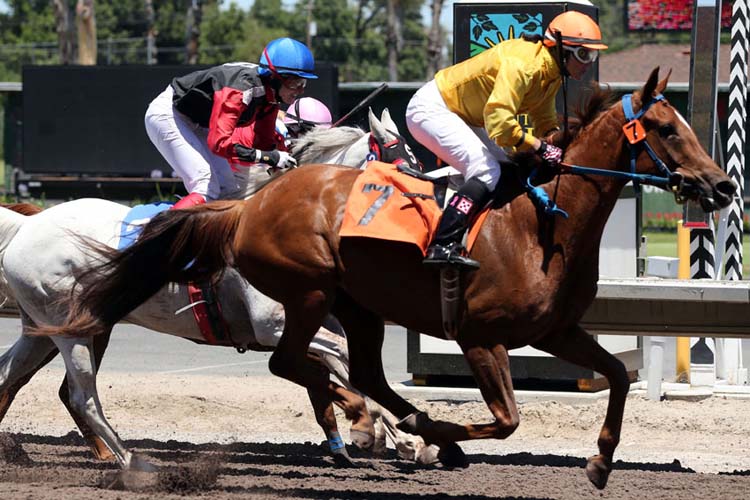 Sand On Fire under American jockey Sandee Martin
Martin, who won a similar HH Sheikha Fatima Ladies race in Houston last year, will now battle it out with the other winners of the series in the final on November 8 in Abu Dhabi.
Ms Dixie reared in the starter's box and subsequently was scratched by the vets and after that Martin came up with a searing run from the outside to score from One Hot Chick under Michala Kucharikova while My Vaz Is Hot under Celina Weber came third.
Powell was delighted with the double and said that Paddys Day will certainly line up for the third leg and the ace trainer also said the Dubai Kahayla Classic was also on the radar. "The best is yet to come and he has been improving with every run. We are looking to take him overseas and the UAE is one of the options," he added.
Earlier Sandee Martin, at 47, still showed a lot of fire as she got Sand On Fire to come up with a great run and win the ladies race. "I am really looking forward to Abu Dhabi. I qualified last year but could not win and I always race to win, so I am hoping for a good horse in the final," the American celebrating her win a day of their July 4 National Day.
HE Abdulla Al Suboosi, UAE Consul General in Los Angeles along with Ms Lara Sawaya, Executive Director of the HH Sheikh Mansoor Bin Zayed Al Nahyan Global Arabian Horse Flat Racing Festival, Chairman of the International Federation of Horse Racing Academies (IFHRA), Chairman of Ladies & Apprentice Racing Committees in the International Federation of Arabian Horse Racing Authorities (IFAHR) and representatives of the US Arabian racing bodies attended the prize distribution ceremony.
"We are as usual proud that the UAE is staging these important Arabian horse races to coincide with the American July 4 holidays and the crowd today was a great testimony to the popularity of Arabian horses here in the US. Such events further strengthen the UAE-US ties," HE Al Suboosi said.
"Today we have seen two lady jockeys win the two premier races of the Festival and that is great news. We are also very happy with the way the Triple Jewel for the Sheikh Zayed Bin Sultan Al Nahyan Cup is panning out. The final leg in Los Alamitos now promises to be an exciting finale to this series," said Ms Sawaya.
The HH Sheikh Mansoor Bin Zayed Al Nahyan Global Arabian Horse Flat Racing Festival is sustained by the Abu Dhabi Tourism and Culture Authority and coordinated by Abu Dhabi Sports Council in cooperation with Emirates Racing Authority, IFAHR, Emirates Arabian Horse Society, Ministry of Foreign Affairs, General Authority of Youth and Sports Welfare with The National Archives as the official partner and Emirates airline as the official carriers and sponsored by Invest AD, National Feed and Flour Production and Marketing Co. LLC, Tourism Development & Investment Company (TDIC), Abu Dhabi National Exhibition Centre (ADNEC), Al Awani General Enterprises, Kabale, Al Wathba Centre, the UAE's General Women's Union, The Supreme Council for Motherhood and Childhood, the HH Sheikha Fatima Bint Mubarak Ladies Sports Academy, Abu Dhabi International Hunting and Equestrian Exhibition 2015, Bloom, Rise General Trading Co. LLC, Petromal, Hayatna, Dr. Nader Saab Switzerland, Al Wathba Center, Abu Dhabi Equestrian Club, Eastern Mangroves Suites-Abu Dhabi by Jannah, Yas Channel, Omeir Travels, Racing Post and Laboratories Fadia Karam Cosmetics.
Source: HH SH Mansoor Global Arabian Flat Racing Festival / Satya Narayan
Photo: Morhaf Al Assaf