Nobas D.A leads 1-2 for trainer Deckers in Belgian
Wathba Stud Farm Cup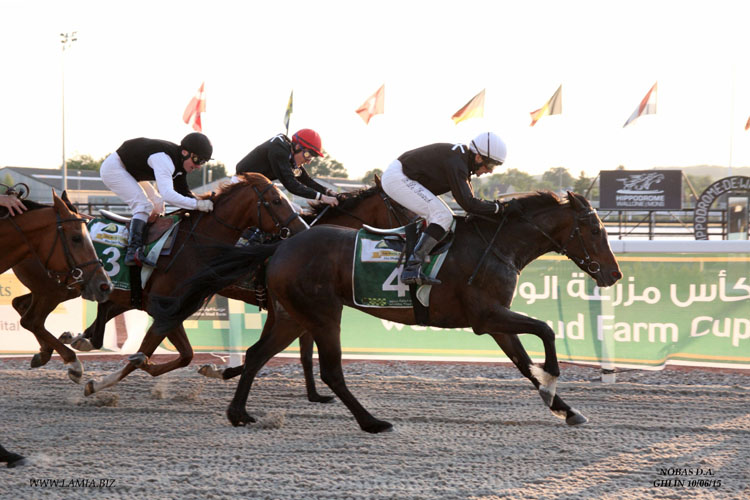 Nobas D.A ridden by Bart de Koninck won the HH Sheikh Mansoor Bin Zayed Al Nahyan Global Arabian Horse Flat Racing Festival's Wathba Stud Farm Spring Cup, run on June 10 at the Hippodrome de Wallonie in Ghlin, Belgium.
The 1500-metre race which attracted nine runners was the second of the three Wathba Stud Farm Cup races to be held in Ghlin, Belgium under the support of His Highness Sheikh Mansoor bin Zayed Al Nahyan, Deputy Prime Minister of the UAE and Minister of Presidential Affairs to boost Arabian racing at the grassroots level.
It was a closely contested affair with Nobas D.A under De Koninck and Hania D.A under Jente Marien making it a 1-2 for trainer Peter Deckers with Nero D.A under Norbert Jean-Pierre finishing third.
Nobas won by three-fourths of a length in 1:47.26 with a neck separating the second from third.
The top three finishing horses were all bred by Johan Verstepen's Dijckhoeve Arabians.
The third and final Wathba Stud Farm Cup race will be held on September 22, 2015.
The HH Sheikh Mansoor Bin Zayed Al Nahyan Global Arabian Horse Flat Racing Festival is sustained by the Abu Dhabi Tourism and Culture Authority and coordinated by Abu Dhabi Sports Council in cooperation with Emirates Racing Authority, IFAHR, Emirates Arabian Horse Society, Ministry of Foreign Affairs, General Authority of Youth and Sports Welfare with The National Archives as the official partner and Emirates airline as the official carriers and sponsored by Invest AD, National Feed and Flour Production and Marketing Co. LLC, Tourism Development & Investment Company (TDIC), Abu Dhabi National Exhibition Centre (ADNEC), Al Awani General Enterprises, Kabale, Al Wathba Centre, the UAE's General Women's Union, The Supreme Council for Motherhood and Childhood, the HH Sheikha Fatima Bint Mubarak Ladies Sports Academy, Abu Dhabi International Hunting and Equestrian Exhibition 2015, Bloom, Rise General Trading Co. LLC, Petromal, Hayatna, Dr. Nader Saab Switzerland, Al Wathba Center, Abu Dhabi Equestrian Club, Eastern Mangroves Suites-Abu Dhabi by Jannah, Yas Channel, Omeir Travels, Racing Post and Laboratories Fadia Karam Cosmetics.
Source: HH SH Mansoor Global Arabian Flat Racing Festival / Satya Narayan
Photo: www.lamia.biz