MH Kanaz wins by a nose from Huyam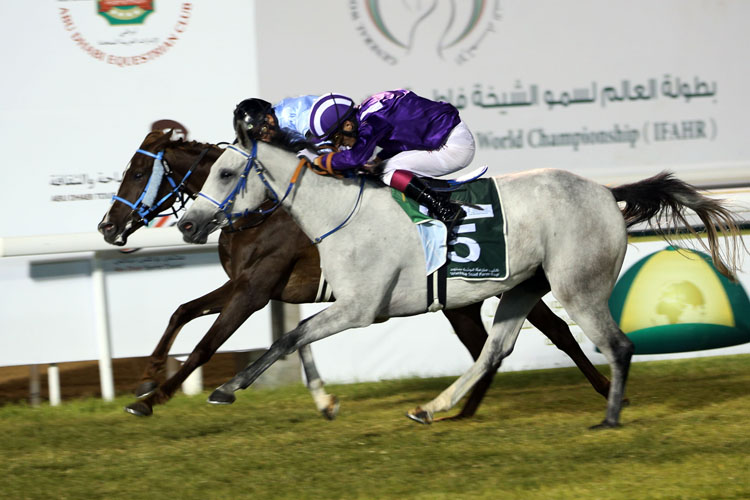 Abu Dhabi - MH Kanaz, ridden by Jose Santiago won the second round of the HH Sheikh Mansoor bin Zayed Al Nahyan Global Arabian Horse Flat Racing Festival 's Wathba Stud Farm Cup For Private Owners Only, a Purebred Arabians Maiden contested over seven-furlong at the ABU Dhabi Equestrian Club on Sunday, November 16.
The winner covered the distance in 1.36.49 seconds to lead by a nose at the busy end.
"I'm truly delighted," said the winning jockey Jose Santiago who had celebrated his first winner of the seven after finishing third and fourth in eight starts.
Trained by Elise Jeanne on behalf of its breeder/ owner Mansoor Khalifa Sultan bin Habtoor at the MH Stable, the three-year-old daughter of former champion Akbar broke nicely and made advantage of the inside rails as Wayne Smith put his mount Huyam on top gear to chase the winner home and the leading pair went eight lengths clear from the rest of the field in the final two furlongs.
"Wayne tried to hold me in, but my filly fought back courageously to prevail by a nose on the line. The race was very exciting and MH Kanaz has always pleased me to win under pressure," said a jubilant Latin American jockey.
Al Sahraa was eight lengths back in third place in the hands of Harry Bentley for trainer Ahmed Al Muhairi.
The winning trainer Elise Jeanne who's looking after the brilliant filly commented: "She's a home-bred promising filly which is bred by the owner Mansoor Khalifa and trained in the heart of the desert. I am obviously very pleased. That was a brave effort."
Sheikh Hamdan bin Suroor Al Sharqi from Invest AD, Adnan Sultan, Director General of the Abu Dhabi Equestrian Club and Ms Lara Sawaya, Executive Director of the HH Sheikh Mansoor bin Zayed Al Nahyan Global Arabian Horse Flat Racing Festival, Chairman of International Federation of Horse Racing Academies (IFHRA), Chairman of Ladies Racing Committee in the International Federation of Arabian Horse Racing Authorities (IFAHR) and Chairman of Apprentice Jockeys & Racing in IFAHR, presented the prizes and trophies to the winning owner, trainer and jockey at the end of the race.
"Once again we would like to thank HH Sheikh Mansoor bin Zayed Al Nahyan, UAE Deputy Prime Minister and Minister of Presidential Affairs for all support he's providing for small breeders and owners to encourage the home breeding of the Arabian horse within the UAE and in the rest of the world," said Sheikh Hamdan bin Suroor Al Sharqi.
On the same evening, local apprentice Saeed Al Mazrouei produced a very polished display aboard Shateh to win the National Day Prep race for Purebred Arabians over 1600 metres.
Having only his second start in the UAE, Shateh and his young jockey were well away and always at the head of affairs, the pair kicking clear 400m out as the field turned towards the judge.
That proved to be the decisive moment and they always looked likely to hold the late challenge of Marzooq. Both are trained by Majed Al Jahouri for Sheikh Mansoor bin Zayed Al Nahyan.
Al Jahouri said: "We had an amazing season last time and things have started well this time. Saeed gave the winner a great ride and both horses are nice new recruits from France having just their second starts locally."
The HH Sheikh Mansoor bin Zayed Al Nahyan Global Arabian Horse Flat Racing Festival is organised by the Abu Dhabi Tourism and Culture Authority and coordinated by Abu Dhabi Sports Council in association with Emirates Racing Authority, IFAHR and Emirates Arabian Horse Society, supported by the Ministry of Foreign Affairs , the General Authority of Youth and Sports Welfare with Arabtec Holding PJSC as the Official Partner and Emirates airline as the official carriers and sponsored by Invest AD, Tourism Development & Investment Company (TDIC), Abu Dhabi National Exhibition Centre (ADNEC), Al Rashid Investment, Al Awani General Enterprises, Kabale, Al Wathba Centre, the UAE's General Women's Union, the HH Sheikha Fatima bint Mubarak Ladies Sports Academy, Abu Dhabi International Hunting and Equestrian Exhibition 2014, Dr. Nader Saab Switzerland, Al Wathba Center, Abu Dhabi Equestrian Club, Eastern Mangroves Suites-Abu Dhabi by Jannah, Abu Dhabi Sports Channel and Racing Post.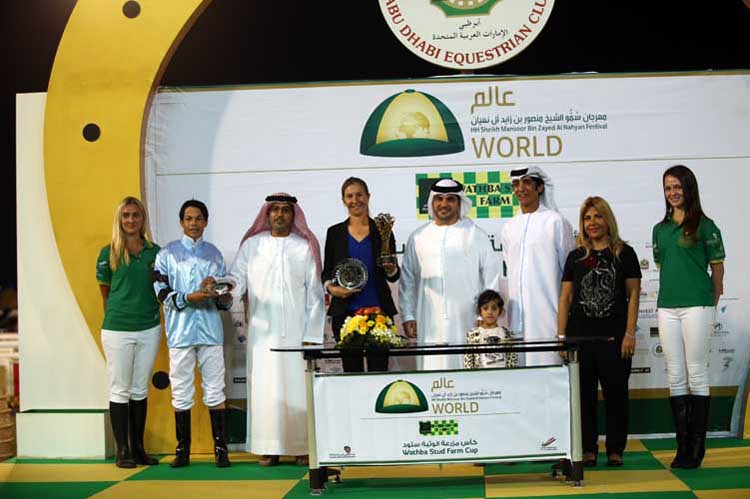 Source: HH SH Mansoor Global Arabian Flat Racing Festival / Satya Narayan
Photo: Morhaf Al Assaf