Labwah wins Wathba Stud Farm Cup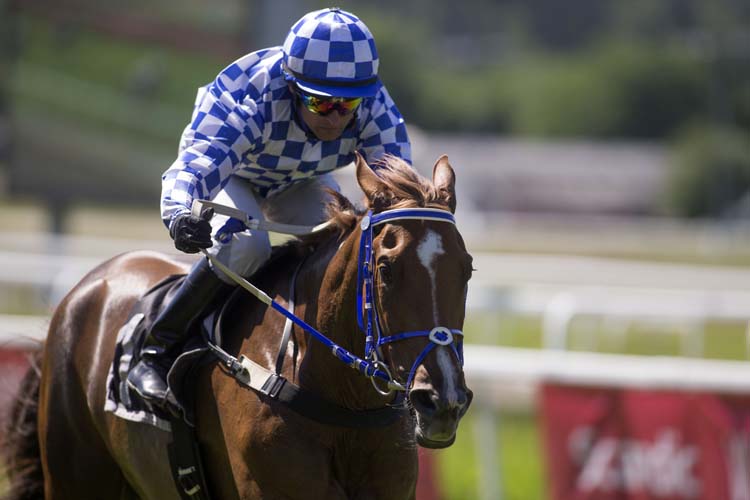 HH Sheikh Mansoor Festival stages first-ever race in Norway
The HH Sheikh Mansoor Bin Zayed Al Nahyan Global Arabian Horse Flat Racing Festival made its debut in Norway with a Wathba Stud Farm Cup race in Ovrevoll earlier this month. Labwah, trained by Mrs. Pia Hoiom and ridden by Pers-Anders Graberg won the 1800-metre race in which seven Arabian horses took part.
Labwah finished a quarter-of-a-length ahead of Daraahem under Charlotte Goss with W Catchcash under Anna Pilroth ion third place over four lengths behind.
Labwah is owned by Iraqi Dr Mohammed Al Nujaifi and it was the sixth win in 22 starts.
The six-year-old Labwah, bred in Iraq, has taken part in the HH Sheikh Mansoor Festival races in Toulouse, France (2013), in the Sheikh Zayed Bin Sultan Al Nahyan Cup in Ostend, Belgium last year, Wathba Stud Farm Cup in Denmark last year and this year before her win in Norway had taken part in the Wathba Stud farm Cup (Group 3) in Jagerspro, Sweden (4th to Gazel T) and had finished third to Mirabella del Sol in the HH Sheikha Fatima Bint Mubarak Ladies World Championship race in Gardat, Stockholm in Sweden on June 6.
Ms Lara Sawaya, Executive Director of the HH Sheikh Mansoor Bin Zayed Al Nahyan Global Arabian Horse Flat Racing Festival, Chairperson of the International Federation of Horse Racing Academies (IFHRA), Chairperson of Ladies & Apprentice Racing Committees in the International Federation of Arabian Horse Racing Authorities (IFAHR) said it was a historic debut for the Festival in the Scandinavian country of Norway.
"Already we have a strong presence in Sweden and also in Denmark and now we are very happy to have staged our first race in Norway. The Wathba Stud Farm Cup which was held in Norway is aimed to boost Purebred Arabian racing at the grass roots level and with seven horses taking part it is a great start," Ms Sawaya said.
The HH Sheikh Mansoor Bin Zayed Al Nahyan Global Arabian Horse Flat Racing Festival is sustained by the Abu Dhabi Tourism and Culture Authority and coordinated by Abu Dhabi Sports Council in cooperation with Emirates Racing Authority, IFAHR, Emirates Arabian Horse Society, Ministry of Foreign Affairs, General Authority of Youth and Sports Welfare with The National Archives as the official partner and Emirates airline as the official carriers and sponsored by Invest AD, National Feed and Flour Production and Marketing Co. LLC, Tourism Development & Investment Company (TDIC), Abu Dhabi National Exhibition Centre (ADNEC), Al Awani General Enterprises, Kabale, Al Wathba Centre, the UAE's General Women's Union, The Supreme Council for Motherhood and Childhood, the HH Sheikha Fatima Bint Mubarak Ladies Sports Academy, Abu Dhabi International Hunting and Equestrian Exhibition 2015, Bloom, Rise General Trading Co. LLC, Petromal, Hayatna, Dr. Nader Saab Switzerland, Al Wathba Center, Abu Dhabi Equestrian Club, Eastern Mangroves Suites-Abu Dhabi by Jannah, Yas Channel, Omeir Travels, Racing Post and Laboratories Fadia Karam Cosmetics.
Source: HH SH Mansoor Global Arabian Flat Racing Festival / Satya Narayan
Pictures courtesy Hesteguiden.com