All set for IFHRA General Assembly in Abu Dhabi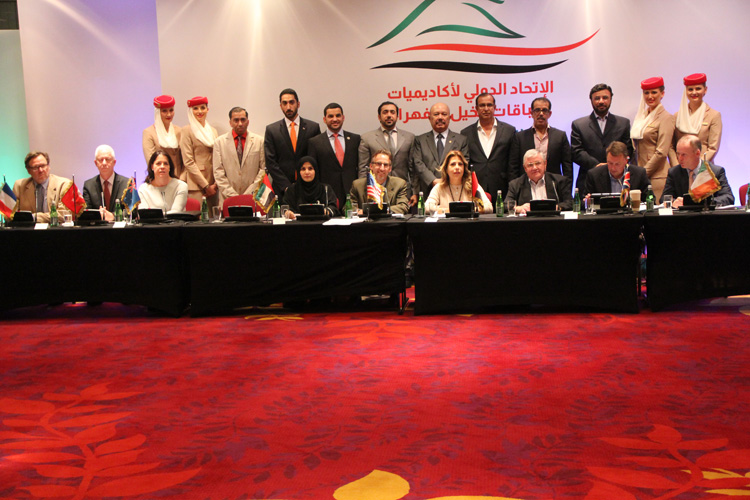 The General Assembly meeting of the International Federation of Horse Racing Academies (IFHRA) will be held from 10.00 am onwards at the Eastern Mangroves Hotel in Abu Dhabi on Wednesday, November 4, 2015.
Ms Lara Sawaya, Chairperson of IFHRA, Executive Director of the HH Sheikh Mansoor Bin Zayed Al Nahyan Global Arabian Horse Flat Racing Festival and Chairman of Ladies & Apprentice Racing Committees in the International Federation of Arabian Horse Racing Authorities (IFAHR) thanked His Highness Sheikh Mansoor Bin Zayed Al Nahyan, Deputy Prime Minister of the UAE and Minister of Presidential Affairs and stated that the stage was all set for the General Assembly.
"The IFHRA General Assembly is part of the 'One World' 6 Continents' and during the next few days the world's cream of Purebred Arabian racing as well as experts, officials, jockeys, trainers and those connected with racing will be in Abu Dhabi," said Ms Sawaya.
"From Thursday we will be staging the HH Sheikha Fatima Bint Mubarak Conference on Training and Education which runs for three days and some of the most important topics concerning racing academies will be the subject of discussions with some eminent persons from various fields in attendance," she added.
Giving some details of the IFHRA General Assembly, Ms Sawaya said the major goals and initiatives for the year 2016 will be on the agenda.
"The General Assembly will review the HH Sheikha Fatima Bint Mubarak Conference on Training and Education's Schedule of Meetings and Events," she said.
"The progress on the Racing Scholarship Fund (RSF) and the names proposed by the RSF Selection Committee for Board approval along with the timeline for coordination and funding of RSF mentorships will be discussed," Ms Sawaya said.
"Safety procedures at partner tracks, safety standards and ways to monitor them will also be part of the agenda while formation of new IFHRA committees will also be discussed."
"Wednesday's IFHRA General Assembly will also chalk out the 2016 Schedule of Races and IFHRA Meetings," Ms Sawaya said.
The HH Sheikh Mansoor Bin Zayed Al Nahyan Global Arabian Horse Flat Racing Festival is sustained by the Abu Dhabi Tourism and Culture Authority and coordinated by Abu Dhabi Sports Council in cooperation with Emirates Racing Authority, IFAHR, Emirates Arabian Horse Society, Ministry of Foreign Affairs, General Authority of Youth and Sports Welfare with The National Archives as the official partner and Emirates airline as the official carriers and sponsored by Invest AD, National Feed and Flour Production and Marketing Co. LLC, Bloom, Petromal, Rise General Trading Co. LLC, Hayatna, Tourism Development & Investment Company (TDIC), Abu Dhabi National Exhibition Centre (ADNEC), Al Awani General Enterprises, Kabale, Al Wathba Centre, the UAE's General Women's Union, The Supreme Council for Motherhood and Childhood, the HH Sheikha Fatima Bint Mubarak Ladies Sports Academy, Abu Dhabi International Hunting and Equestrian Exhibition 2015, Dr. Nader Saab Switzerland, Al Wathba Center, Abu Dhabi Equestrian Club, Eastern Mangroves Suites-Abu Dhabi by Jannah, Yas Channel, Omeir Travels, Racing Post and Laboratories Fadia Karam Cosmetics.
Source: HH SH Mansoor Global Arabian Flat Racing Festival / Bharathi Hanumiah
Photo: Cidinha Franzão