HH Sheikha Fatima Training and Education Conference
ends on high note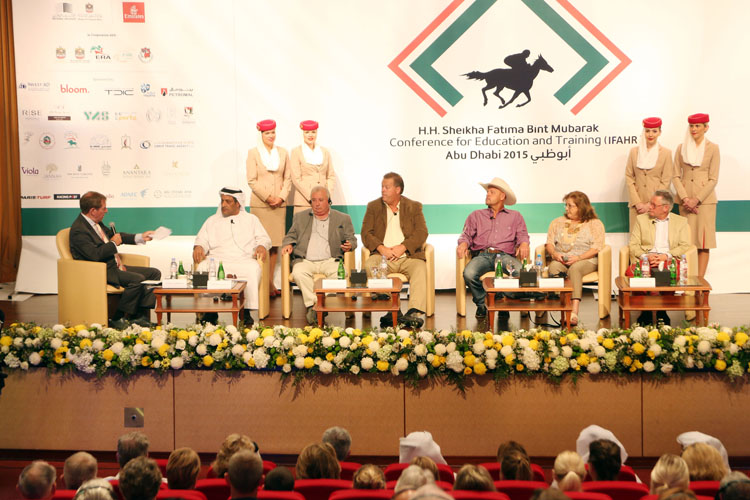 On Breeding Session
Dazzling gala dinner before big race day
A Gala Dinner party which had a lot of colour, music and joy along with an awards ceremony marked the end of the three-day HH Sheikha Fatima Bint Mubarak Training and Education Conference organized by the HH Sheikh Mansoor Bin Zayed Al Nahyan Global Arabian Horse Flat Racing Festival's 'One World, 6 Continents' before the big race meeting.
HE Jasem Al Darmaki, Acting Director General, Abu Dhabi Tourism & Culture Authority and Ms Lara Sawaya, Executive Director of the HH Sheikh Mansoor Bin Zayed Al Nahyan Global Arabian Horse Flat Racing Festival, Chairperson of the International Federation of Horse Racing Academies (IFHRA) and Chairperson of Ladies & Apprentice Racing Committees in the International Federation of Arabian Horse Racing Authorities (IFAHR) were on stage to honour top UAE officials, Ambassadors, supporters and sponsors.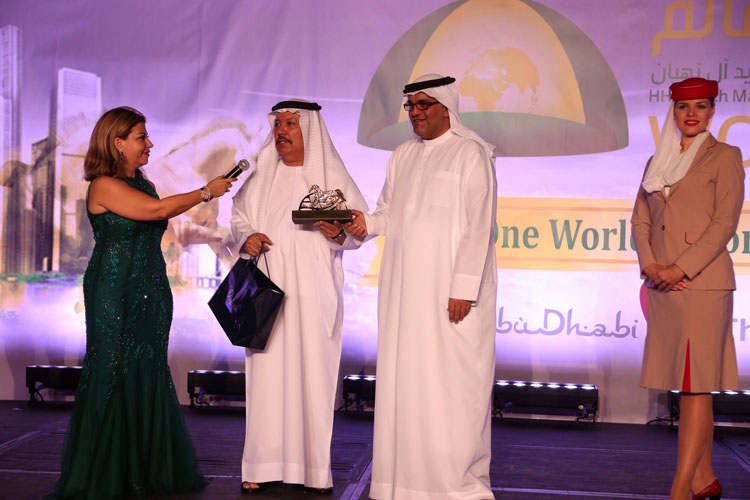 Gala Dinner
HE Mohammed Meer Al Raisi, Under-Secretary of the Ministry of Foreign Affairs; H.E. Dr. Abdul Rahim Yousef Al Awadi, Assistant Foreign Minister for Legal Affairs; HE Sulaiman Hamid Almazroui, UAE Ambassador to Belgium HE Asim Mirza, UAE Ambassador to Poland, HE Abdullah Hamdan Al Naqbi, UAE Ambassador to Netherlands; HE Dr. Abdullah Mohammed al-Rayes, Director of National Archives; HE Matar Al Yabhouni of Abu Dhabi Sports Council, HE Mohsen Al Dossary, Assistant Under Secretary of the General Authority of Youth and Sports Welfare, Dr. Wadooda Badran, Advisor of the Arab Women Organisation and Lulwa Alawadhi, Member of the Bahraini Consultative Council and many others were all awarded mementoes.
Earlier in Friday's opening session's panel at the National Archives building approached the wide subject of PR and Media for Racing Industry Recruitment.
Led my Moderator, Philip Brannan, speakers were Top TV Race Presenter, Derek Thompson, Pamela Burton, publisher of the international internet magazine horsereporter.com, Gary Capwell, UK TV Presenter, Adeline Gombaud, from Jour De Galop, Jean- Claude Allies, Paris Turf, John Cobb from the UK Racing Post, and Victoria Shaw, The only lady race announcer in Australia.
Media are key to send out information about events, and with 100 professional and apprentice jockeys in the audience, the conversation quickly turned to how an apprentice jockey should prepare for the media, who will want to ask them questions or how to have an interview in the future. As the past sessions had emphasized that a jockey is his own best promotion, the subject of a jockey's media presence was timely.
Media are looking for good photos. Be sure to thank the horse, a hug or pat after the rides is a nice gesture and also makes a nice photo opportunity.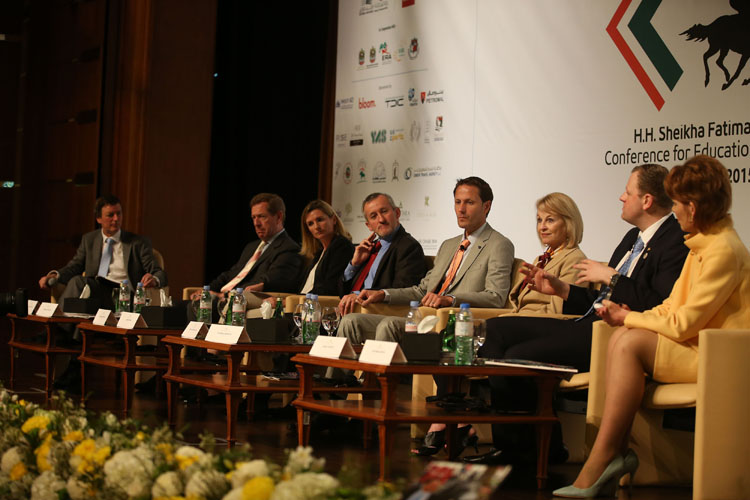 PR and Media for Racing Industry Recruitment
"Be yourself when you answer," said Derek Thompson.
"Prepare a few words on what you will say when you win on Sunday," was the advice from Pamela Burton. "Plan for success, manage your careers professionally. Listen to interviews of other sports figures for tips, speak clearly," she told the young jockeys.
"If you're asked about a ride that you didn't win, and there will plenty of those, be gracious and honest," said Gary Capewell.
Other good advice was to be certain to thank the owner and trainer of the horse after the race. These are the people who gave you the ride and have the ultimate power to give you more.
Directly after the morning session Ms Lara Sawaya and Derek Thompson conducted a workshop which involved the apprentice jockeys in a discussion of exercise and nutrition and what they might find important to bring into future apprentice jockey sessions. All of the apprentices have been invited to return for the 14 February 2016 HH President's Cup race meeting at the Abu Dhabi Equestrian Club.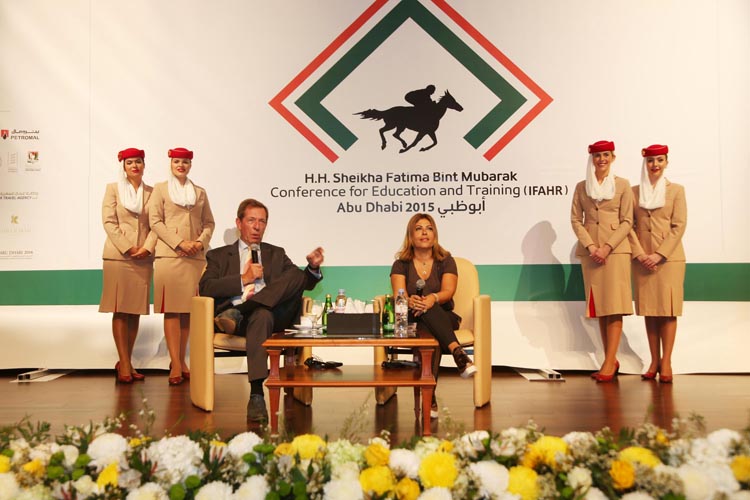 "The discussions were fruitful and the festival will listen to all parties in order to strengthen the links between jockeys, owners and trainers," Ms Sawaya said.
A celebration dinner was held later on Friday evening at the Ritz Carlton Hotel, Abu Dhabi.
The final session On Breeding was held on Saturday. Derek Thompson moderated with the speakers being Essam Abdulla, General Manager EAHS (UAE), Martial Boisseuil (FR), Mark Powell (US), Scott Powell (US), Diane Waldron (US) and Mehmet Yousuf Marangoz (Turkey).
The legality of using artificial insemination in horse breeding to keep the bloodline and whether the breeding process should be specified in the horses passports were among the main issues that were discussed by the speakers.
Essam Abdulla outlined the rules which govern the selection of horses arriving from abroad to take part in the Sheikh Zayed Bin Sultan Al Nahyan Crown Jewel race, pointing out that they are governed by three stipulations that should be adhered to - Transportation process; Respective forms of the horses and Ratings.
Martial Boisseuil said the horses which have been declared for the race are from varying dynasties and age groups.
The Scott brothers said they are delighted to be in Abu Dhabi pointing out that their horses are ready for the challenge. They reiterated that they love PA horses and the race is very important for the future of this noble creature.
The speakers urged the horse breeders and owners to look after their horses. Essam Abdullah noted that in UAE owners focus on mares rather than males which is not helpful for the future breeding operations. Both sexes should receive equal treatment and attention of horse breeders and owners.
Regarded the legality of artificial insemination and the need to be mentioned in the passport, all speakers have agreed the necessity of using modern technology in the process while keeping an eye on the safety of the stallions saying that it's up to the breeders to use artificial insemination or not.
The HH Sheikh Mansoor Bin Zayed Al Nahyan Global Arabian Horse Flat Racing Festival is sustained by the Abu Dhabi Tourism and Culture Authority and coordinated by Abu Dhabi Sports Council in cooperation with Emirates Racing Authority, IFAHR, Emirates Arabian Horse Society, Ministry of Foreign Affairs, General Authority of Youth and Sports Welfare with The National Archives as the official partner and Emirates airline as the official carriers and sponsored by Invest AD, National Feed and Flour Production and Marketing Co. LLC, Bloom, Petromal, Rise General Trading Co. LLC, Hayatna, Tourism Development & Investment Company (TDIC), Abu Dhabi National Exhibition Centre (ADNEC), Al Awani General Enterprises, Kabale, Al Wathba Centre, the UAE's General Women's Union, The Supreme Council for Motherhood and Childhood, the HH Sheikha Fatima Bint Mubarak Ladies Sports Academy, Abu Dhabi International Hunting and Equestrian Exhibition 2015, Dr. Nader Saab Switzerland, Al Wathba Center, Abu Dhabi Equestrian Club, Eastern Mangroves Suites-Abu Dhabi by Jannah, Yas Channel, Omeir Travels, Racing Post and Laboratories Fadia Karam Cosmetics.
Source: HH SH Mansoor Global Arabian Flat Racing Festival / Satya Narayan
Photo: Morhaf Al Assaf