Arabians dish out exciting fare on
Swedish National Day meeting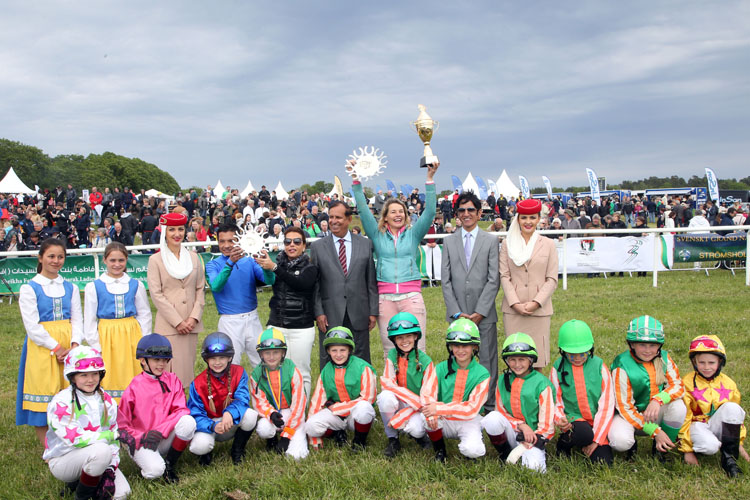 Athlete Del Sol wins Sheikh Zayed Cup
Trainer Karin van den Bos was deprived of a double when Briton Ann Stokell came up with a breezy finish on Mirabella Del Sol to deny Alibaba Del Sol even as the HH Sheikh Mansoor Bin Zayed Al Nahyan Global Arabian Horse Flat Racing Festivaladded some Arabian flavour to the Swedish National Day celebrations.
Despite chilly conditions the Gardat in Stockholm was filled with enthusiastic racing fans and the Sheikh Zayed Bin Sultan Al Nahyan Listed Cup and the HH Sheikha Fatima bint Mubarak Ladies World Championship races provided classy fare with exciting contents.
In the 1500-metre Sheikh Zayed Bin Sultan Al Nahyan Listed Cup, Athlete Del Sol under Carlos Lopez lived up to his favourite tag, winning this event for the second successive year. The 8-year-old son of Dormane proved too good for the 10-horse field and van den Bos was overjoyed to see her runner outclass Daraahem under Fabienne De Geer with Gazel T under Jacob Johanson in third place.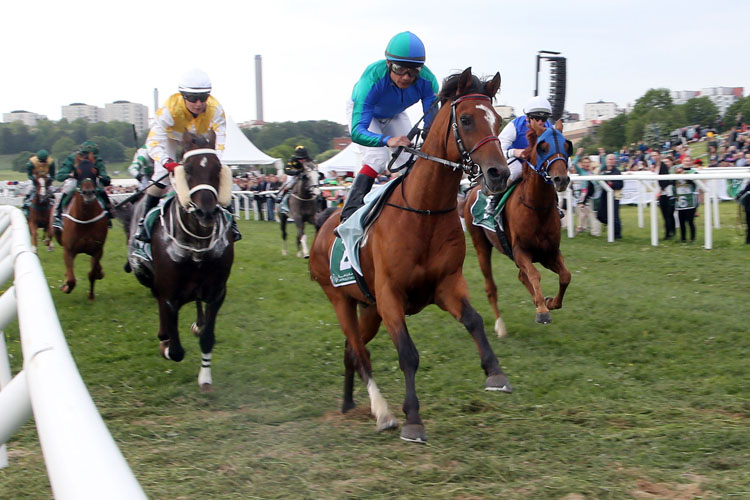 Athlete Del Sol winning Zayed Cup
"He was very good today and it was an easy win," said van den Bos, adding that Athlete Del Sol will run in Duindigt next.
But it was 2750-metre contest for the lady jockeys in the HH Sheikha Fatima bint Mubarak Ladies World Championship racewhich turned out to be a close finish. Stokell, who trains Thoroughbred horses in Southwell, was racing on an Arabian horse for the first time. The favourite Alibaba Del Sol was under Australian Shirley Hunter, who at 49 is the same age of Stokell.
It was a fantastic finish with just a nose separating the horses of the two 'veteran' lady jockeys after Stokell on Mirabella Del Sol caught and collared Alibaba Del Sol under Hunter to win this Stockholm leg of the Ladies World Championship series.
Labwah under Italian jockey Jessica Marcialis and Al Janoob under Polish jockey Joanna Wyrzyk ran into third and fourth places respectively.
"I was asked to keep him handy but I was pushed wider and wider. That's the reason we came late and from the outside but still he had enough and proved a quality winner," said Stokell, adding that it was the first Arabian horse she had ever ridden.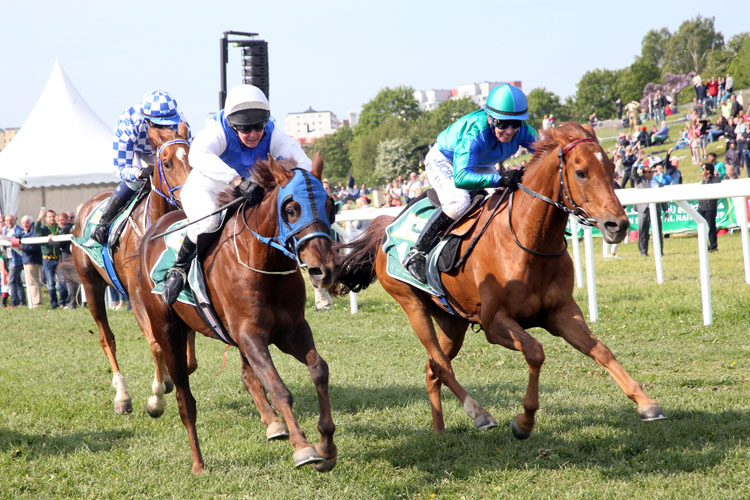 Stokell on Mirabelle Del Sol wins
Mirabella Del Sol's owner-trainer Gerd Zoetelief hailed the HH Sheikh Mansoor Festival for the races in Europe. "I have six horses in racing and three for breeding. Mirabella Del Sol has also won a similar HH Sheikha Fatima race before and it looks like he is comfortable racing under ladies. He is a very calm character," said Zoetelief.
For Karin van den Bos' 10-year-old gelding Alibaba Del Sol it could pretty well be an end to a brilliant career. "He went down fighting and he has been such a great champion. He likes tracks like the ice and snow course in St Moritz and here in Gardat. Probably I may run him in Tatarstan in the Festival's race and then he may be retired," van den Bos said.
HE Saeed Mohammed Ali Al Shamsi, UAE Ambassador to Sweden said, "This is a great gift for the Swedish people from the UAE on their National Day. The Purebred Arabians racing here this afternoon provided so much of excitement and I thank His Highness Sheikh Mansoor bin Zayed Al Nahyan Deputy Prime Minister of the UAE and Minister of Presidential Affairs and Her Highness Sheikha Fatima bint Mubarak, Chairwoman of the General Women's Union, Supreme President of the Family Development Foundation (FDF) and Head of the Supreme Council for Motherhood and Childhood for these races."
Ms Lara Sawaya, Executive Director of the HH Sheikh Mansoor Bin Zayed Al Nahyan Global Arabian Horse Flat Racing Festival, Chairman of the International Federation of Horse Racing Academies (IFHRA), Chairman of Ladies & Apprentice Racing Committees in the International Federation of Arabian Horse Racing Authorities (IFAHR) said, "It is so encouraging when we see such top quality racing from the lady jockeys like in today's HH Sheikha Fatima bint Mubarak Ladies World Championship race. The Festival has a strong presence in Sweden and today the record crowd watched Purebred Arabian racing at its best."
Adnan Sultan Al Nuaimi, Director General of Abu Dhabi Equestrian Club joined HE Saeed Mohammed Ali Al Shamsi and Ms Lara Sawaya for the prize distribution to the winners of the two races which were telecast live on Yas TV.
The HH Sheikh Mansoor Bin Zayed Al Nahyan Global Arabian Horse Flat Racing Festival is sustained by the Abu Dhabi Tourism and Culture Authority and coordinated by Abu Dhabi Sports Council in cooperation with Emirates Racing Authority, IFAHR, Emirates Arabian Horse Society, Ministry of Foreign Affairs, General Authority of Youth and Sports Welfare with The National Archives as the official partner and Emirates airline as the official carriers and sponsored by Invest AD, National Feed and Flour Production and Marketing Co. LLC, Tourism Development & Investment Company (TDIC), Abu Dhabi National Exhibition Centre (ADNEC), Al Awani General Enterprises, Kabale, Al Wathba Centre, the UAE's General Women's Union, The Supreme Council for Motherhood and Childhood, the HH Sheikha Fatima Bint Mubarak Ladies Sports Academy, Abu Dhabi International Hunting and Equestrian Exhibition 2015, Bloom, Rise General Trading Co. LLC, Petromal, Hayatna, Dr. Nader Saab Switzerland, Al Wathba Center, Abu Dhabi Equestrian Club, Eastern Mangroves Suites-Abu Dhabi by Jannah, Yas Channel, Omeir Travels, Racing Post and Laboratories Fadia Karam Cosmetics.
Source: HH SH Mansoor Global Arabian Flat Racing Festival / Satya Narayan
Photo: Morhaf Al Assaf