So Big Is Better Wins Horse of the Year at the
Oscars of Arabian Racing, the HH Sheikha Fatima Bint Mubarak
Darley Awards Hollywood 2014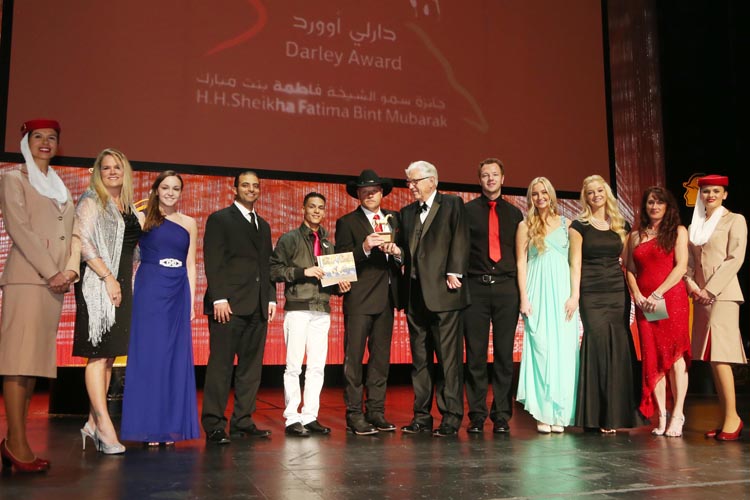 Carmel, California / USA - April 8, 2014 ~ Topped by an historic win in the President of the UAE Cup S. (G1) at Santa Anita during Breeders' Cup weekend, SO BIG IS BETTER, owned by Mark Powell, took home Arabian racing's biggest award of Horse of the Year during an extravagant event at the Dolby Theatre in Hollywood, CA on April 4, 2014. The talented stallion, who has since been retired to stand at stud, also picked up the award for Older Horse. His owner, Mark Powell, accepted the award for Outstanding Owner and his conditioner (and Mark's younger brother) Scott Powell won for Outstanding Trainer.
The complete list of winners are:

US Darley Award Winners
3 YEAR OLD COLT or GELDING – THESS IS AWESOME
3 YEAR OLD FILLY – DHAAN
4 YEAR OLD COLT or GELDING – SMOKE HOUSE
4 YEAR OLD FILLY - MAHRA T
OLDER HORSE – SO BIG IS BETTER
OLDER MARE – MS DIXIE
OWNER - Mark Powell
BREEDER - Bill Waldron
TRAINER - Scott Powell
JOCKEY - Juan Torres
HORSE OF THE YEAR - SO BIG IS BETTER
HH Sheikha Fatima Bint Mubarak Darley Awards
Best Breeder: Renée -Laure Koch – France
Best Owner: Manuela Daverio Scharfenberg – Germany
Best Trainer: Karin Van den Bos – The Netherlands
Best Jockey: Rachel King – UK
Best Life Time Achievement: Nelly Philippot Hermanne – Belguim
Best Old Mare: SHAYEL ALDHABI (AE) – UAE
Best Filly 3 yrs old: LORRA – France
Best Filly 4 yrs old: FARH – France
Best Lady Journalist: Noelle Derre – France
Best Lady Photographer: Pamela Burton – USA
Best Racing TV Presenter: Amanda Roxborough – USA
Chartered in 1983, the Arabian Racing Cup is a nonprofit corporation founded by Dr. Sam Harrison and directed by its Board of Stewards. The Cup is dedicated to the international promotion of breeding and racing purebred Arabian horses, and in 2012, joined together with the HH Sheikh Mansoor Bin Zayed Al Nahyan Global Arabian Flat Racing Festival to promote this prestigious Darley Awards event.

Supported by an extensive list of international sponsors, the Darley Awards are under the direction of Lara Sawaya, Executive Director of the Festival, and organized by Arabian Racing Cup, the Abu Dhabi Tourism & Culture Authority, coordinated by Abu Dhabi Sports Council, in association with International Federation of Arabian Horse Racing Authorities, Emirates Racing Authority, Emirates Arabian Horse Society, and supported by General Authority of Youth & Sports Welfare. Emirates Airlines is the official carrier.

Contact:
Arabian Racing Cup
Email: darleys@arabianracingcup.com
www.arabianracingcup.com
Source: HH SH Mansoor Global Arabian Flat Racing Festival
Photo: Morhaf Al Assaf