Irish jockey McCutcheon impressive, wins the opener of
HH Sheikha Fatima championship in Muscat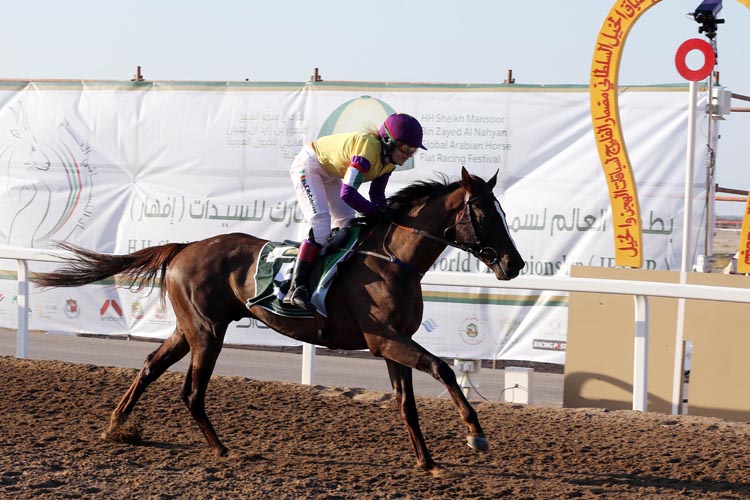 Muscat – Top amateur Irish lady jockey Evanna McCutcheon teamed up with Omani trainer Mohammed Al Ghenaimi to steer Secret Treasour home in a tight finish ahead of early leader Pipepoile under Swedish contender Jhannah Stolt in the curtain raiser of the 2014 HH Sheikha Fatima bint Mubarak Ladies World Championship at Al Flaij Racecourse on Friday afternoon, January 17. Giada Menato, representing Italy, finished third astride Sami Al Mels.
The race was contested over a mile on the dirt track as part of the HH Sheikh Mansoor bin Zayed Al Nahyan Global Flat Arabian Horse Race Festival on the Omani Derby Card, one of the major race days in the Sultanate's calendar.
"Secret Treasour broke nicely and I have followed the instructions of the Omani trainer Mohammed bin Salim Al Ghenaimi by keeping him away from the horses and put him into the clear at the right time," a delighted winner said later.
"He was happy, relaxed and focused. He gave me a great ride. This is my first experience on the back of an Arabian horse and I loved it. I'm pleased to book the first ticket in the final of the world's ladies premier competition and hopefully I will have some luck when I make my first visit to Abu Dhabi in November," she added.
McCutcheon said she is part of the team who trains the speedy sprinter Maarek, winner of the Qatar Prix De L'Abbaye De Longchamp (Group-1).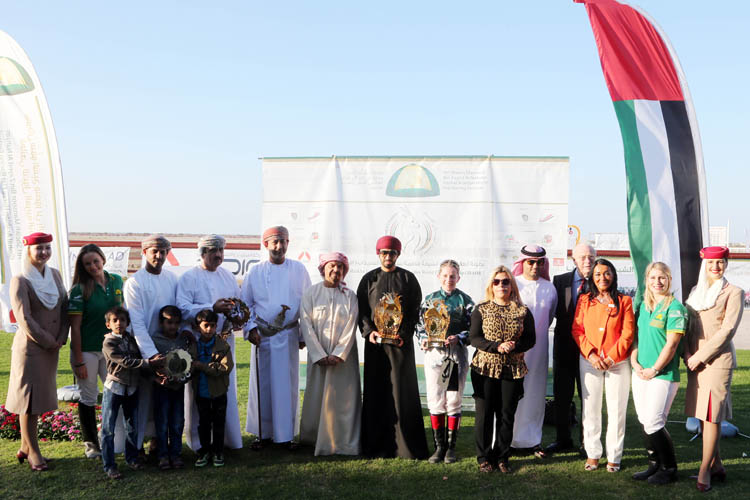 UAE debutant Anoud Al Suwaidi delighted her supervising trainer Eric Lemartinel and former Swedish champion lady jockey Anna Sofia who's looking after Anoud training program. Sofia commented: "That's great. We are looking forward to see the Emarati young girl improving very fast in her next attempt.
"What matters at this stage is to see Anoud passing her first test in the buildup for the future challenges. She proved to be confident, brave and concentrated. We didn't expect her to win and we didn't say that," she said.
The race was attended by Khalid Bin Hilal Al Busaidi, Undersecretary of the Omani Ministry of Foreign Affairs, UAE ambassador to Oman Abdulredha Abdullah Khouri, Lara Sawaya, director of the HH Sheikh Mansoor bin Zayed Al Nahyan Global Arabian Horse Racing Festival and chairman of the Ladies Racing Committee in the International Federation of Arabian Horse Racing Authorities (IFAHR), the Embassy's staff members alongside sports officials, dignitaries and a big crowd of horse racing lovers.
"It's a pleasure to be here," said the UAE ambassador. "Above all I would like to thank our brothers in Oman for the excellent organization of the event. Everything was perfect including the fine weather and the big numbers of spectators who packed the beautiful venue.
"I'm truly delighted to see a UAE lady taking part in this important championship thanks to the bright vision of HH Sheikh Mansoor bin Zayed Al Nahyan, UAE Deputy Prime Minister and Minister of Presidential Affairs to promote the Arabian horse worldwide and the great initiative of HH Sheikha Fatima bint Mubarak, Mother of the UAE, to support the UAE women," he said.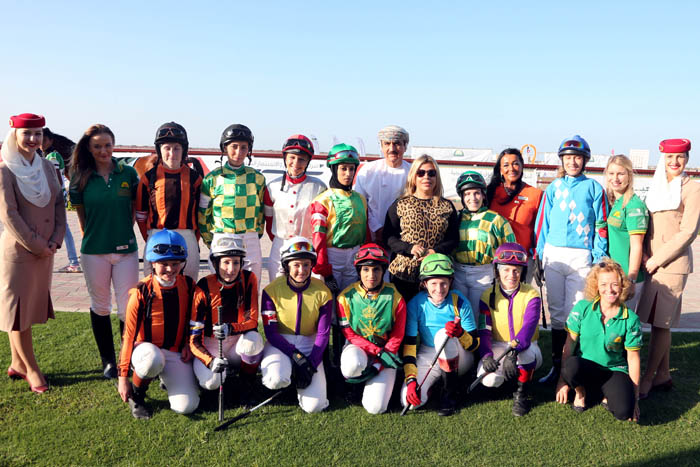 Speaking about the performance of Anoud in her first appearance, the UAE diplomat said she was great and will definitely improve on her debut's form.
Elsewhere, leading Omani jockey Anas bin Salim Al Siyabi steered Dorian CS home to land the 1600m Oman Derby for Purebred Arabians, the final race on the card to cruise to his fifth winner of the afternoon.
Al Siyabi opened his campaign after having partnered Al Ghabra's to a stunning win in the 1400m Hay As'Salam Purebred Arabian Handicap before he completed a double in the subsequent race, a 1600m Hay Al Ma'amoorah TB Handicap on board top weight Broughtons Day. Thereafter, he went on to make three out of three in the 1600m Hay Al Masha'al Purebred Arabians Handicap. Al Siyabi sealed his fourth winner in the fifth race, a 1600m Hay Al Jood TB Handicap with veteran Eddie Jock.
The HH Sheikh Mansoor bin Zayed Al Nahyan Global Arabian Horse Flat Racing Festival is organised by the Abu Dhabi Tourism and Culture Authority and coordinated by Abu Dhabi Sports Council in association with Emirates Racing Authority, IFAHR and Emirates Arabian Horse Society, supported by the Ministry of Foreign Affairs , the General Authority of Youth and Sports Welfare and Fegentri with Arabtec Holding PJSC as the Official Partner and Emirates airline as the official carriers and sponsored by Invest AD, Tourism Development & Investment Company (TDIC), Al Rashid Investment, Al Awani General Enterprises, Kabale, Al Wathba Centre, the UAE's General Women's Union, the HH Sheikha Fatima bint Mubarak Ladies Sports Academy, Abu Dhabi International Hunting and Equestrian Exhibition 2014, Dr. Nader Saab Switzerland, Al Wathba Center, Abu Dhabi Equestrian Club, Eastern Mangroves Suites-Abu Dhabi by Jannah, Abu Dhabi Sports Channel and Racing Post.
Source: HH SH Mansoor Global Arabian Flat Racing Festival
Photo: Morhaf Al Assaf