Interview with Manuela Daverio-Scharfenberg, owner of Ameretto (Amer x Win Taouy)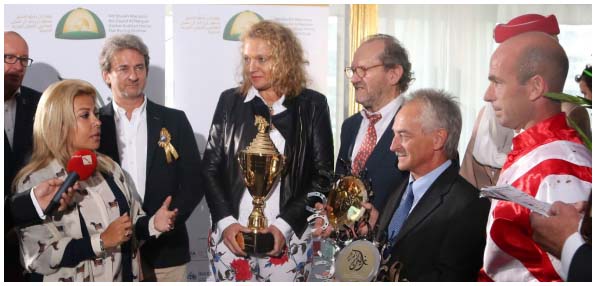 Ameretto won the 2014 bonus of € 50.000 with 3 wins in 2014 (included 2 wins in Sheikh Zayed Cup in Holland and in Poland) and runner-up in the Berlin's Sheikh Zayed Cup.
Ameretto has won five Sheikh Zayed Cups on the whole.
Ameretto won its third race of the year when he liftd the Sheikh Zayed Cup of Sluzeiwic in Poland. Three consecutive victories over distances ranging from 1600 to 2600 meters. How do you explain his versatility?
MDS: I always call Ameretto an allrounder. He is reliable over nearly all distances. This is probably thanks to his pedigree. His dam Win Taouy gives him the stamina and his sire Amer gives him the speed. The breeding combination explains his versatility. He also has the will to win. He hates to have hoses beat him and he shows it. It is always a pleasure to watch him fight his opponents in the last furlongs.
Of the three Europeen events of the Sheikh Zayed Cup he competed in, he won twice and was the runner-up once. This makes him the best horse of the challenge in Europe. How do you feel about it, how do you enjoy it?
It is a really great achievement. It seems the older Ameretto gets the better he runs. This year he has produced his best form. He was only beaten on his seasonal reappearance. He won all the other three starts convincingly. One can only enjoy such a horse that has all my respect for his will to win. He is such a cool horse!
What do you make of the Sheikh Zayed Cup series ? Do you think it adds to the development of Purebred Arabian racing?
The Cup series is a good challenge for the selection of our best horses, which is really important for the international breeding of purebred arabians. The concept of running in three different countries makes it exciting and it is always an interesting confrontation between different breeding lines.
Ameretto is now 8 years old. He seems to be in top form, so how do you see his future?
He will certainly retire to stud in the future. We will check after the winter rest how he is doing and then we will decide if we give him three or four starts in 2015. It will all depend on his will to win. Don't forget, his sire won until he was 12……

Texts : Liz Price / Photos : Morhaf Al Assaf