EARS Conference Aims to Strengthen Education for
Jockeys and Racing Industry
| | | |
| --- | --- | --- |
| Susanna Santesson | Lara Sawaya | Mubarak Al Muhairi |
Abu Dhabi, November 9, 2013 - Following a welcome by Mubarak Al Muhairi, Director general Abu Dhabi Tourism & Culture Authority and Susanna Santesson, President, EARS – European Association of Racing Schools, the opening session of the HH Sheikha Fatima Bint Mubarak EARS Conference for Training and Education began a two- day session at the Eastern Mangrove and was attended by invited jockeys, apprentice jockeys, and members of all walks of racing participation and media.
Santesson explained the purpose of the conference: "The best way to present the activities of our organization and introduce it to the interested people worldwide was to host international conferences. As usual, the HH Sheikh Mansoor bin Zayed Al Nahyan Global Flat Arabian Horse Flat Racing Festival was the first to lend a hand to the generous initiative of HH Sheikha Fatima bint Mubarak to patron the inaugural edition of the conference. We are looking forward to see the experts and participants of this international gathering coming up with fruitful recommendations in the fields of jockeys training development and the global horse industry."
Lara Sawaya, director of the HH Sheikh Mansoor bin Zayed Al Nahyan Global Arabian Horse Flat Racing Festival and chairman of Ladies Racing Committee (IFAHR) detailed that the results of the conference on education of those in the racing industry would have key impact on the welfare of the jockey and the horse. "The ultimate objective is to send a message to all apprentice jockeys to make the utmost use of this conference to develop their skills and to become well tuned for the international challenges ahead after gaining sufficient experience from the various advanced training courses and conferences," she said. "It is important to be here and to your thoughts and we will all learn together."
Noted sports commentator, Derek Thompson, moderated the forum on Training Foundation which had as main topic what is now in place for racing professionals' education, why the European schools had banded together to form the EARS alliance, and what would improve the process and the students who avail themselves of the schools.
Derek Thompson, moderated the forum on Training Foundation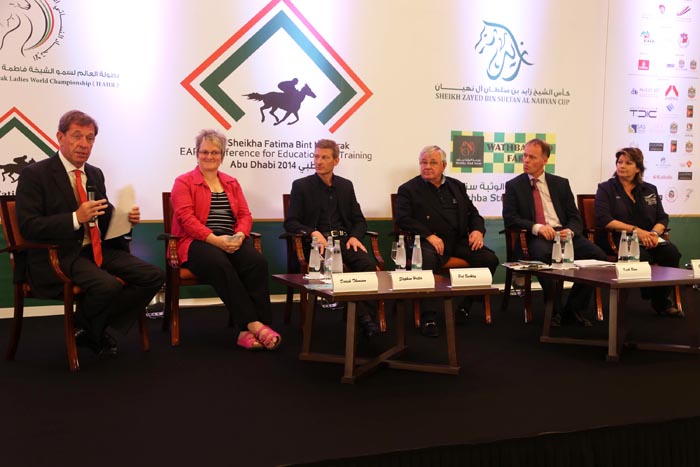 Experts who contributed to the discussion were Dawn Goodfellow of the Northern Racing College; Keith Rowe, director of Ireland's Race Academy and Centre of Education (RACE); Gabrielle Anne Gauci from Australia, Ex-jockey turned educator, Stephan Heiler from Canada, and Grand National winning Champion Steeplechase jockey, Pat Buckley.
The afternoon session on continued Professional Development moderated by Pat Buckley heard from French trainer, Jean-Francois Bernard; Rory McDonald from Newmarket, UK;, Didier Budka of Chantilly, France; Daniel Kruger of Germany; and Remi Belloq, Executive director of Equine Programming Bluegrass Community and Technical College, Kentucky, USA.
The second session will conclude the Conference, followed by Sunday's championship night of racing at the Abu Dhabi Equestrian Center.
The HH Sheikh Mansoor bin Zayed Al Nahyan Global Arabian Horse Flat Racing Festival is organized by the Abu Dhabi Tourism and Culture Authority and co-ordinated by Abu Dhabi Sports Council in association with Emirates Racing Authority, IFAHR and Emirates Arabian Horse Society, supported by General Authority for Youth and Sports Welfare and Fegentri with Emirates airlines as the official carrier and sponsored by Tourism Development & Investment Company (TDIC), Invest AD, Arabtec Holding PJSC, Al Rashid Investment, Areej Al Ameerat, Al Awani General Enterprises, Kabale, Al Wathba Centre, the UAE's General Women's Union, the HH Sheikha Fatima bint Mubarak Ladies Sports Academy, Abu Dhabi International Hunting and Equestrian Exhibition 2013, Dr. Nader Saab Switzerland, Wathba Stud Farm, Al Wathba Center, Abu Dhabi Equestrian Club, Eastern Mangroves Hotel and SPA and Eastern Mangroves Suites-Abu Dhabi by Jannah.
Source: HH SH Mansoor Global Arabian Flat Racing Festival
Photo: Morhaf Al Assaf